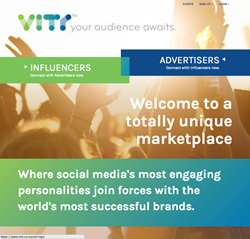 We have been watching VITY for quite some time and found their solution for directly connecting advertisers to influencers to be a very compelling concept that has great potential
Los Angeles, CA (PRWEB) August 02, 2016
Hurst Capital, LLLP today announced that principals Austin and Zach Hurst have joined the advisory board of VITY (http://www.vity.co) and have also made an undisclosed investment in the social media advertising exchange.
The Hurst brothers have joined the VITY advisory board where they will provide strategic counsel alongside other advisory board members including Mike Kail, former CIO at YAHOO! and Head of IT at Netflix as well as Arturo Aranda, former Lead, Global Creative Strategy at Facebook.
VITY connects social media influencers with advertisers in a no-barrier-to-access marketplace that allows influencers to monetize their followers, advertisers to reach their target markets through social media and provides consumers with more authentic, relevant and organic advertising.
"We are excited to have the Hurst brothers join with us at this point in VITY's history," said VITY co-founder and CEO Lynne Haaland. "Their intellect, network and resources will be invaluable as we roll-out the next iterations of the VITY Social Media Influence Exchange. We welcome them and urge you to keep VITY on your radar."
According to Hurst Capital's Austin Hurst, "We have been watching VITY for quite some time and found their solution for directly connecting advertisers to influencers to be a very compelling concept that has great potential. It's impressive they have achieved this level of development and traction on a self-funded basis. We are pleased to have the opportunity to work with them in an advisory capacity and also look forward to directly benefiting through our equity position in VITY."
For more information on VITY please visit http://www.vity.co.
Hurst Capital LLLP is a Sarasota, Florida-based family office headed up by twin brothers Austin and Zach Hurst. The twins are most notable in the tech sector for creating and scaling server side video transcoding architecture using a Beowulf cluster in 2005. The twins deployed the technology as a user generated video service, which ranked #5 in its peak with 6.4 million users and was the first UGC site to send video to mobile devices. Hurst Capital made headlines in November of 2012 after becoming the second leading contender to acquire the under performing assets of Hostess Brands, Inc. out of bankruptcy. Presently the firm has over 40 assets under management – mostly in technology and consumer goods. http://www.HurstCap.com