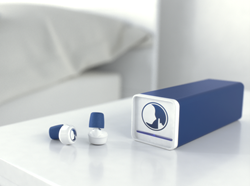 San Diego, CA (PRWEB) December 11, 2014
Hush, now funding on Kickstarter, is the world's first set of connected earplugs that wirelessly connects to a smartphone, to help people live and sleep when it's noisy. Hush combines noise-masking earplugs with an app to isolate users from distractions that may be keeping them from sleeping, while still letting key notifications in.
The Hush app allows the user to play a multitude of soothing sounds to help users sleep including, white noise, brown noise, pink noise, ocean wave, rainfall, fan, crackling fire, babbling brook, waterfall and thunderstorm.
The app can also play binaural beats for a more stimulating experience. Binaural beats play a certain pitch in one ear and a slightly higher pitch in the other. The brain tries to decipher the difference in these levels and this encourages either a more relaxed and calm state or awake and alert one. The binaural beats can be mixed with the soothing sounds to create a stimulating sleep experience.
There are things one may still need to hear through Hush's noise block, so Hush allows the user to control which important phone notifications, such as alarm clocks or calls, are still heard. Plus, the alarm is discrete in that only the user will hear the alarm through the earplugs.
Hush is a completely wireless device that is able to playback audio and stay connected to the user's smartphone for up to 10 hours in one battery cycle. Hush comes with a unique dock that not only charges the earplugs, but also acts as a convenient carrying case. The case has its own rechargeable batteries that can recharge Hush up to 10 times on one battery cycle. The case also comes with an extra USB port to allow users the option of charging their phone at the same time.
Hush had an initial funding goal of $100,000, however it has now raised over $460,000 from almost 4,000 backers. Visit http://bit.ly/HushKS for more information on the Kickstarter campaign or to order a pair today.
About
Hush is comprised of three young UCSD engineers, all named Daniel, who are guided by a number of high-powered advisors experienced with bringing successful consumer products to market. Hush combines youthful passion and the tried-and-true experience needed to innovate on the age-old problem of noise-bothered sleep. Visit https://hush.technology/ for more information.