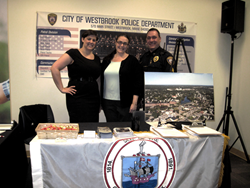 Career fairs are an outstanding way to connect job applicants with the companies that need them.
Westbrook, Maine (PRWEB) March 10, 2016
Nearly 40 employers will be meeting with Husson University students, alumni and the members of the public in an effort to find qualified applicants for open positions at their organizations. It's all part of Husson University – Southern Maine's Second Annual Business and Management Career Fair on Thursday, March 10, 2016, from 2 p.m. – 6 p.m. at their Westbrook campus.
"Career fairs are an outstanding way to connect job applicants with the companies that need them," said Charles Collins, Ed.D., executive director of Husson University - Southern Maine. "Anyone that's interested in learning more about the different career and internship opportunities available at area world-class organizations should attend this event.
Companies participating in the Second Annual Husson University – Southern Maine Business and Management Career Fair include (in alphabetical order):

AAA Northern New England
Androscoggin Bank
Bonney Staffing Center, Inc.
Brentwood Center for Health and Rehabilitation
Chalmers Insurance Group
Cliff House Resort & Spa
Connections for Kids
Creative Work Systems
Department of Health and Human Services
Friends Camp
Genesis Rehab Services
Goodwill Industries NNE
Great Falls Marketing
Keller Williams Realty
Key Bank
Lowes of Scarborough, ME
Maine Army National Guard
Maine Special Education/Mental Health Collaborative
Maine State Police
Manpower Maine
MAS Home Care of Maine
Migis Hotel Group ~ Black Point Inn & Migis Lodge
Modern Woodmen of America
Ocean Properties / Marriott Sable Oaks/Holiday Inn Express/ Reservation Center
Paychex Inc.
Riverview Psychiatric Center
Sherwin Williams
State of Maine, DAFS, NRSC
Stone Coast Fund Services
The Westin Portland Harborview
Town of Old Orchard Beach Police Department
True North Hotel Group
University Credit Union
WB Mason (sales representative)
WB Mason (internship)
Westbrook Police Department
Collins recommends that every job seeker engage in the following activities as part of the upcoming career fair.
1. Research participating companies prior to attending. Job seekers who know more about the skills and interests valued by participating organizations can better explain the ways they can contribute to company success.
2. Remember to bring paper and a pen. Career fair participants should write down details about particular organizations after they leave a company's table.
3. Accept business cards from recruiters. Job seekers should write follow-up notes on the back of the business cards to remind themselves of what was discussed.
4. Take company materials (i.e., brochures, position descriptions, etc.) that are offered for review later.
5. Demonstrate self-confidence. Career fairs are an opportunity for job seekers to practice interview skills in a less formidable place than a formal interview. Conversations should focus on education, professional qualifications, skills, and specific interests.
No appointments are required. Individuals interested in participating in the career fair can walk in and meet with company representatives anytime between 2 p.m. and 6 p.m. on March 10 at Husson University's Southern Maine campus located at 340 County Road in Westbrook.
Interested participants who have questions or need additional information should contact Husson University - Southern Maine at 207-874-5800 or collinsc(AT)husson.edu.
For more than 100 years, Husson University has prepared future leaders to handle the challenges of tomorrow through innovative undergraduate and graduate degrees. With a commitment to delivering affordable classroom, online and experiential learning opportunities, Husson University has come to represent superior value in higher education. Our Bangor campus and off-campus satellite education centers in Southern Maine, Wells, and Northern Maine provide advanced knowledge in business; health and education; pharmacy studies; science and humanities; as well as communication. In addition, Husson University has a robust adult learning program. For more information about educational opportunities that can lead to personal and professional success, visit Husson.edu.