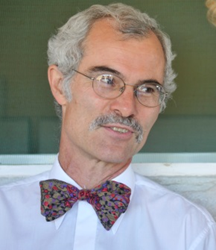 By sharing the most up-to-date information we have on disease control, this lecture will help avoid the public panic and misunderstanding associated with epidemics.
Bangor, Maine (PRWEB) April 06, 2015
The first reported case of Ebola occurred in December 2013 in Guinea.[1] In the 16 months that have passed since that first case was reported, 24,701 individuals have contracted this disease and 10,194 have died.[2]
Containing and treating infectious diseases is just one of the challenges facing our modern health care delivery system worldwide. In an effort to help members of the public better understand the challenges confronting public health and our medical response to existing and potential future epidemics, Husson University's College of Health and Education is sponsoring a lecture entitled, "Ebola, Superbugs, and the New Epidemics of the 21st Century: How Do We Respond?"
Guest lecturer Dr. Peter Millard will share a timely, ethical, and science-based approach to infectious disease outbreaks with the audience. It's his view that this approach will be the most successful way to handle future epidemics or multiple simultaneous epidemics.
The presentation will take place on Monday, April 6, 2015 at 6:30 p.m. in the Kominsky Auditorium in Peabody Hall on the Bangor, Maine campus of Husson University. The lecture is free and open to the public.
Millard is a family physician and epidemiologist. Originally from southern Maine, he was educated at Amherst College, the University of Vermont Medical School, and the University of North Carolina School of Public Health. He served as an epidemic intelligence service officer with the Centers for Disease Control and Prevention (CDC), where he investigated disease outbreaks.
"By sharing the most up-to-date information we have on disease control, this lecture will help avoid the public panic and misunderstanding associated with epidemics," said Paula Tingley, Ed.D., interim dean at Husson University's College of Health & Education. "We don't want to repeat history. In the early days of the AIDS epidemic, there was an enormous amount of fear and stigmatization of anyone who contracted the disease. Lectures like this help students and our community better understand how to respond appropriately to public health challenges."
Formerly a faculty physician at the EMMC family medicine residency program (1995-2008), Dr. Peter Millard recently returned to this country after spending five years in Mozambique, where he was a professor at the Catholic University of Mozambique Medical School. He developed a primary care and AIDS teaching clinic in Beira, Mozambique, and is the developer of a novel new technique for male circumcision to prevent HIV transmission. Millard has published over 50 articles in peer-reviewed scientific journals and is actively engaged in HIV prevention research.
Dr. Millard practices at Seaport Community Health Center in Belfast and is an adjunct professor of public health at the University of New England. He is married to Emily Wesson, who is school nurse at Belfast Area High School, and has three children.
The College of Health and Education at Husson University offers innovative and challenging, undergraduate and advanced degree programs led by a highly credentialed and experienced faculty. Programs offered by the College include degrees in education, graduate counseling, nursing, occupational therapy and physical therapy. Educational excellence is created through rigorous coursework combined with experiential learning opportunities. For more information, visit Husson.edu/College-of-Health-and-Education
For more than 100 years, Husson University has prepared future leaders to handle the challenges of tomorrow through innovative undergraduate and graduate degrees. With a commitment to delivering affordable classroom, online and experiential learning opportunities, Husson University has come to represent superior value in higher education. Our Bangor campus and off-campus satellite education centers in Southern Maine, Wells and Northern Maine provide advanced knowledge in business; health and education; pharmacy studies; science and humanities; as well as communication. In addition, Husson University has a robust adult learning program. For more information about educational opportunities that can lead to personal and professional success, visit Husson.edu.
# # #
[1] "The toll of a tragedy", The Economist, April 2, 2015, http://www.economist.com/blogs/graphicdetail/2015/04/ebola-graphics (Sourced: April 5, 2015). Data represents the most current information available on March 29, 2015.
[2] Ibid