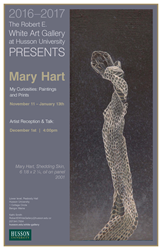 We all collect unique things... These objects may be repositories of memory, reminding us of a particular time and place, or their physical qualities may hold symbolic meaning for us.
Bangor, Maine (PRWEB) December 01, 2016
The Robert E. White Gallery at Husson University presents "My Curiosities," an exhibit highlighting selections from over 15 years of original oil paintings and intaglio prints by artist Mary Hart. Hart is a visiting professor of printmaking at Bowdoin College in Brunswick, Maine. Her studio and art practice are based in Portland, Maine.
The title of this show refers to an old tradition of collecting marvelous objects into a "Cabinet of Curiosities." From the Renaissance to a recent exhibition at the Museum of Modern Art, as the scholar Francesca Fiorina writes, these collections provide us with "…a microcosm or theater of the world, and a memory theater." Hart has a similar goal for the body of work now showing at the White Gallery in Campus Center at Husson University. One will find 30 artworks, including paintings and prints, as well as a small installation case of the objects she uses as a visual reference.
Of her work, Hart says: "We all collect unique things; it could be a penny on the sidewalk, a piece of driftwood from the beach, or a round stone. These objects may be repositories of memory, reminding us of a particular time and place, or their physical qualities may hold symbolic meaning for us… the perfect roundness of the pebble could represent calm and balance or the odd shape of driftwood might suggest a contorted figure. They make our emotions and thoughts tangible. When I compose paintings and prints, I use this collection to tell stories."
Mary Hart is a painter and printmaker from southern Maine. A former member and president of Peregrine Press, she also started the first printmaking classes at Southern Maine Community College. Born and raised in Connecticut, she moved to Maine in the 1980s to teach and paint in the Western Mountains region. Her family spent summers there for five generations. She now lives and works in Portland, Maine.
Hart earned her Bachelor of Arts in art and English from Dartmouth College, and her Master of Fine Arts from the Milton Avery Graduate School of the Arts at Bard College where she was the recipient of the Elaine de Kooning Scholarship in Painting.
Dealing with issues of growth, damage, struggle and beauty, Hart's work links the natural world with an inner narrative. Her small, sometimes miniature paintings and prints are intensely focused and detailed. Their larger purpose is the formation of visual associations that describe the artist's place in the world and her emotional response to it.
This work has been exhibited at Aucocisco Gallery in Portland, Maine since 2000. She was represented in the Maine Women Pioneers III: Dirigo exhibition at the University of New England and her paintings have been included in exhibitions at the Portland Museum of Art. She has also had solo exhibitions at the Trustman Gallery at Simmons College and the University of Maine Museum of Art in Bangor. Hart's work is currently in the collection of the Portland Museum of Art, Simmons College, the University of Maine, Southern Maine Community College, Bates College and numerous private collections. She received an Artist's Resource Trust Grant in 2006, a Good Idea Grant in 2007 and was artist-in-residence at SMCC in 2007-08.
The opening reception for "My Curiosities" is Thursday, December 1 from 4 - 5:30 p.m. The artist will give a gallery talk at 4 p.m. In addition to the gallery talk and reception on December 1, Hart will spend part of her day working with Husson University fine arts students as a visiting artist.
For inquiries about the exhibit, please contact Husson University Assistant Professor Kathi J. Smith by email at robertewhitegallery(AT)husson.edu.
For more than 100 years, Husson University has prepared future leaders to handle the challenges of tomorrow through innovative undergraduate and graduate degrees. With a commitment to delivering affordable classroom, online and experiential learning opportunities, Husson University has come to represent superior value in higher education. Our Bangor campus and off-campus satellite education centers in Southern Maine, Wells, and Northern Maine provide advanced knowledge in business; health and education; pharmacy studies; science and humanities; as well as communication. In addition, Husson University has a robust adult learning program. For more information about educational opportunities that can lead to personal and professional success, visit Husson.edu.