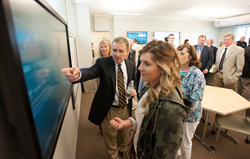 "I fully expect that one day we'll have successful graduates who, when they think about their Husson experience, will remember the time they spent in this Center."
Bangor, Maine (PRWEB) September 02, 2014
Husson University recently held a ribbon cutting ceremony, marking the official opening of the Ronan Center for Financial Technology on its Bangor, Maine campus.
This fully equipped facility features two LED stock ticker displays that show current market activity in real time. The new center also includes two large interactive touchscreens that provide students with the ability to research stock, mutual fund and bond investment performance. With just the touch of a finger, students will now be able to access historical data for US and international companies.
In addition, the Ronan Center for Financial Technology contains two financial market "walls" that allow students to see the impact breaking news has on the financial markets. Also included are four world clocks that show the time in New York, London, Dubai and Beijing
"The facility has a unique design," said Husson University College of Business Dean Marie Hansen. "While traditional classrooms have a 'front' and 'back', this space allows instructors to stand with any of the walls behind them or deliver presentations from the center of the room. Creating a facility with a capacity for 360-degree learning is another example of how Husson University delivers innovative, groundbreaking, professional education."
Courses at Husson University that will benefit from the new facility during the upcoming fall semester include Microeconomics, Managerial Economics, Financial Management, Economics (for non-business majors), Bank and Financial Services Management, Sport Finance, International Business and Global Strategic Management. The headline news capability of the facility will also benefit Husson's Constitutional Law course and provide real-world context to issues addressed by the U.S. judiciary.
The new center was made possible through the generosity of Bob and Linda Ronan. Bob is a retired senior vice president of technology with Fidelity Investments, while Linda is currently a vice president in Fidelity's technology area. In discussing their reasons for helping to create this facility, Bob Ronan said, "Our hope for this Center is that it creates another opportunity at Husson University for students to utilize experiential learning to enhance their classroom experience. I fully expect that one day we'll have successful graduates who, when they think about their Husson experience, will remember the time they spent in this Center."
Bob Ronan graduated from Husson University with a Bachelor of Science in Accounting in 1979. Raised in Orono, Maine, he also has an MBA from Carnegie-Mellon University. Bob is currently vice chair of the Husson University Board of Trustees.
The Ronan family has a long history of educational accomplishments at Husson University. From 1966 – 1973, Bob's father, Robert K. Ronan, CPA, was a professor of accounting at Husson. A Korean war veteran and partner at Donahue, Haverlock and Ronan in Camden, Maine, the Ronan family patriarch passed away in 1974 at the age 38.
Bob's brother, John K. Ronan graduated with a Bachelor of Science in Business Administration from the University of Maine and later went on to earn a Master of Science in Human Relations and a Master of Business Administration (2011) from Husson. In addition, John's wife, Tracy L. Ronan, also earned her Bachelor of Science in Accounting from Husson in 2010.
Bob's brother-in-law, Mark A. Silk, graduated from Husson with a Bachelor of Science in Criminal Justice in 2005. Today, this educational tradition continues with Bob's nephew David E. Silk. David is scheduled to complete his B.S. in Criminal Justice this December.
"As a champion of education and a member of our Board of Trustees, Bob is helping our students prepare for professional success in today's competitive, global economy. His support led to the creation of a new, innovative educational facility that in the coming years will educate the next generation of accomplished financial professionals and investors," said Robert A. Clark, Ph.D., CFA, president of Husson University.
For more than 100 years, Husson University has prepared future leaders to handle the challenges of tomorrow through innovative undergraduate and graduate degrees. With a commitment to delivering affordable classroom, online and experiential learning opportunities, Husson University has come to represent superior value in higher education. Our Bangor campus and off-campus satellite education centers in Southern Maine, Wells and Northern Maine provide advanced knowledge in business; health and education; pharmacy studies, science and humanities; as well as communication. In addition, Husson University has a robust adult learning program. For more information about educational opportunities that can lead to personal and professional success, visit Husson.edu.