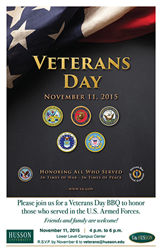 Veterans are some of the bravest people in our nation.
Bangor, Maine (PRWEB) November 11, 2015
Husson University announced today that it will be hosting a Veterans Day Barbecue on November 11, 2015 from 4:00 – 6:00 p.m. in the G. Pierce Webber Campus Center in Peabody Hall. The event is designed to show veterans how much the Husson campus community appreciates the sacrifices these brave men and women made for our country.
The barbecue is open to Husson University students, faculty and staff who served in the U.S. Armed Forces. Friends and family of Husson servicemen and women are also welcome to attend. In addition, the university has invited veterans from the Maine Veterans' Home in Bangor to be part of the celebration.
"Veterans are some of the bravest people in our nation," said Danielle Leighton, the Veterans Administration certifying official at Husson University. "They put their lives on the line to protect our freedoms and endured lengthy separations from family and loved ones while on tours of duty. They have earned our support and deserve to be honored."
PepsiCo, Wallace Events, and Chapel Hill Floral all donated items to the event. Student volunteers will be helping with the serving and clean up.
The Husson University Student Veterans Association (SVA) has been actively involved in coordinating this barbecue. The association has invited students that have no armed forces affiliation to help increase appreciation for veterans and the issues they face upon returning home after military service.
For more information about the event, please contact Danielle Leighton at leightonda(at)husson(dot)edu or call her at 207-941-7034.
For more than 100 years, Husson University has prepared future leaders to handle the challenges of tomorrow through innovative undergraduate and graduate degrees. With a commitment to delivering affordable classroom, online and experiential learning opportunities, Husson University has come to represent superior value in higher education. Our Bangor campus and off-campus satellite education centers in Southern Maine, Wells and Northern Maine provide advanced knowledge in business; health and education; pharmacy studies, science and humanities; as well as communication. In addition, Husson University has a robust adult learning program. For more information about educational opportunities that can lead to personal and professional success, visit Husson.edu.