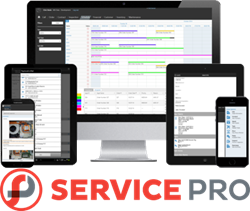 Milwaukee, WI (PRWEB) January 14, 2015
MSI, a leading provider of field service management software for the HVAC industry, today announces that its suite of service management software and cross-platform mobile apps for HVAC Contractors will be on display at booth #3129 during the 2015 AHR EXPO in Chicago from January 26th through January 28th.
MSI's cloud-based service management, scheduling and cross-platform native mobile application, Service Pro®, drives productivity gains for HVAC contractors' field service, preventive maintenance, contract management, and inspection processes.
Service Pro® manages the complete lifecycle of HVAC equipment service, from quote, sale, and installation, to preventive maintenance, inspection, and break fix repair. Service Pro provides all-in-one service management for HVAC contractors, equipment manufacturers, and dealers.
Service Pro® Helps HVAC Businesses Optimize Field Service Operations
With its integrated suite of service management capabilities, including a cross-platform native mobile app, field forms builder, visual scheduler, events manager, stakeholder web portals, and business systems integrations, Service Pro guides HVAC contractors' service departments by:

Making more informed technician scheduling assignment decisions.
Automating repetitive preventive maintenance schedules.
Centrally managing service van inventory.
Improving sales with automated quoting capabilities.
Giving customers access to important information through stakeholder portals.
Empowering technicians with integrated mobile apps.
Documenting inspections in the field.
End-to-End Field Service Management for HVAC Contractors, Manufacturers, and Dealers Brings All-Around Improvements from Field to Office
Service Pro connects the office and field with a single management system that unifies call taking, dispatching, invoicing, scheduling, labor time, parts/inventory, equipment assets, warranties, maintenance contracts, tasks inspections, photo & signature capture, and service history. By automating costly business process delays and inefficiencies for HVAC contractors, Service Pro:

Accelerates service to cash cycle.
Increases field service technician utilization rates.
Improves customer service and asset availability.
Eliminates duplicate data entry.
Manages service businesses to key performance indicators.
Schedules field resources with more accuracy and in less time.
Empowers HVAC customers with self-service portal access.
Deep Field Service Functionality Meets Advanced Cloud-Based Mobile Technology with Robust ERP Integrations
Service Pro® manages the full scope of HVAC service business activities, from customer calls and scheduling to invoicing and reporting. MSI's cloud-based deployment option provides contractors with the flexibility to achieve their service needs without the burden of paying for and maintaining a server on-premises. MSI apps deploy on each of the leading smartphone and tablet platforms and are available as native applications.
Service Pro offers HVAC contractors a complete, all-in-one system by providing mobile and back-office service functionality along with reporting, scheduling, and a number of ERP integrations including Sage 100 ERP and Vista by Viewpoint.
About MSI
MSI Data develops enterprise, scheduling and mobile software that helps companies improve the productivity of their field workforce. MSI Data's powerful suite of field workforce software automates field service, inspections, site surveys, audits, reporting and other critical field-driven business processes. MSI Data replaces paper and disconnected spreadsheet-based business processes with highly efficient, end-to-end processes through the combination of mobile technology for field workers and ERP, CRM and accounting systems integration. Whether deployed in the cloud or on-premises, MSI field workforce software applications are easy to acquire, easy to deploy and deliver enterprises with rapid return on investment. To learn more about MSI Data, please visit http://www.msidata.com.
About Service Pro®
Service Pro®, MSI Data's flagship depot repair and field service software product, gives companies the ability to align field service and repair center business processes with software. Service Pro® helps organizations more effectively manage field service operations such as contract and warranty management, service parts and logistics, depot repair and order processing, advanced scheduling, inspection, mobile field service, and advanced business intelligence reporting. Service Pro® is available as either a hosted/cloud or on-premises solution providing a scalable low cost subscription model. In most cases organizations can be up and running with Service Pro® in a matter of weeks. To learn more about Service Pro®, please visit http://www.msidata.com/service-pro-software.