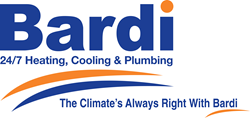 Solar panels generate around 265 watts of energy per hour. To compare,that amount of energy could power four 65-watt light bulbs every hour.
Atlanta, GA (PRWEB) April 09, 2014
Atlanta air conditioning repair company Bardi is currently providing a promotion featuring Lennox brand HVAC equipment and accessories. The promotion runs through June 13, 2014 and provides homeowners a variety of savings options.
Customers may save up to $1700 total with this tiered promotion. Homeowners will save $1300 on the purchase of a qualifying home comfort system from Lennox. Additional savings on accessories include a $100 rebate on the iHarmony Zoning System and a $300 rebate on solar panels.
Bardi provides several home comfort options including energy-saving and environmentally friendly accessories to maximize efficiency and reduce energy costs and consumption, including a range of solar paneling choices. Solar ready systems are available with different seasonal energy efficiency ratios (SEER). Bardi carries them with ratings of 17 SEER, 21 SEER, and the new 25 SEER ultimate comfort rating. Each system is compatible with up to 15 panels. A 21 SEER Lennox solar system with 15 panels offers approximately 163% in annual operating cost savings (estimated annual operating cost savings based on a three ton XC21 with 15 panels compared to a 10 SEER air conditioner). In addition, these systems contribute to a greener environment by reducing about 9,717 pounds of carbon dioxide emissions every year, which is the same as planting over 100 trees annually.
Solar panels installed by Bardi are tied directly into a homeowner's HVAC system to power the air conditioner and/or furnace or heater. When the air conditioning or heater is not running, however, the panels continue to generate power that can be directed to and used to run other appliances or fixtures in the home. Solar panels come with a 25 year performance warranty.
"Solar panels generate around 265 watts of energy per hour. To compare, that amount of energy could power four 65-watt light bulbs every hour," said Gresham Ard, Residential General Manager at Bardi. "Using energy generated from the sun is better for the environment because homeowners are not relying as significantly on energy that may have been generated by a process that creates emissions or other hazardous byproducts. In addition, even though the solar panels are integrated with the HVAC system, they can be used to generate electricity to power other appliances when the heating and cooling equipment isn't in use."
Bardi Heating, Cooling and Plumbing is a family-owned HVAC and plumbing company in Atlanta. Founded in 1989 by Alex and Susan Bardi, the company has been providing the Atlanta area with quality HVAC services for almost 25 years. Bardi also offers plumbing repairs and services, and is home to an experienced management team as well as an outstanding team of NATE certified technicians, whose number one priority is to keep their customers satisfied by "always, always, always doing the right thing." Bardi provides free electronics pick-up and recycling on all service calls benefiting Nobis Works. For more information about energy efficient HVAC products and the new home comfort promotion, visit http://www.bardi.com or call 770-263-5355.