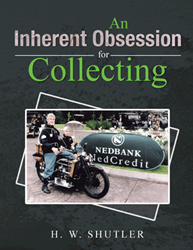 RANDBURG, South Africa (PRWEB) March 12, 2015
The author H. W. Shutler has always been an avid collector of vintage items that range from classic cars to noteworthy historical objects. This passion has in many ways shaped his life which is why he has endeavored to write "An Inherent Obsession for Collecting" (published by AuthorHouse UK), a book that is both a family memoir and a catalog of the objects Shutler has collected.
This engrossing read shows the author's many years of being a collector and also captures his great passion for this hobby. Shutler includes his family's history as a way of showing his fascination with old vehicles, motorcycles and much more. The author's adventures in this book take readers to various countries and are somewhat reminiscent of the History Channel show "American Pickers," as Shutler searches for interesting items for his collection.
An excerpt from "An Inherent Obsession for Collecting":
"In 1949, I purchased my first motor cycle, which was a dollied-up 1939 war model "Royal Enfield" 350cc (OHV) all repainted, with a chrome tank, etc. I had driven motor cars on sand roads on my uncle's farm, but had never ridden a motor cycle in my life."
"An Inherent Obsession for Collecting"
By H. W. SHUTLER
Softcover | 8.5x11 in | 180 pages | ISBN 9781491880142
E-Book | 180 pages | ISBN 9781491880159
Available at Amazon and Barnes & Noble
About the Author
H. W. SHUTLER retired from business in 1990. He joined the Vintage and Veteran Club (VVC) in 1969, serving on the committee for 10 years and was Chairman for three years. Honorary Life Membership of the VVC was bestowed upon Hhim in 1996. He is still the current Club Dating Officer, a position held for the past 29 years. He also held the position of Vehicle Dating Chairman for the South African Veteran & Vintage Association (SAVVA) for 14 years.
AuthorHouse UK Ltd., an Author Solutions, LLC self-publishing imprint, is a leading provider of self-publishing, marketing, and bookselling services dedicated to serving authors throughout the United Kingdom. AuthorHouse UK is committed to providing authors the best self-publishing experience through a wide array of products and services designed to help individual authors realise their unique creative vision. AuthorHouse UK assigns each author a personal publishing, marketing, and book consultant to provide professional guidance throughout the self-publishing process. To date, AuthorHouse UK has released more than 6,500 titles. For more information or to begin publishing a book today, visit authorhouse.co.uk or call 0800 1974150 or follow @AuthorHouseUK on Twitter for our latest news and updates