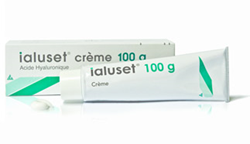 For fighting wrinkles...IALUSET is the original skin repair cream. Rich in hyaluronic acid, it is considered by many women to be the best anti-wrinkle cream on the market. (France 20 Minutes, Oct. 18th Issue)
New York, NY (PRWEB) July 21, 2014
Hyaluronic Acid, from French beauty innovators Ialuset, appears to reign supreme among this summer's must-have sun products for getting rid of wrinkles "French Riviera" style. In second place is Biafine (recently featured on sites like Net-a-porter), used for over 25 years as the go-to emulsion cream in every French medicine cabinet to treat sunburns or burns in general.
Elle's Make-up and Skincare issue from January 10th writes, "To keep skin cells plump and your face radiant…look for creams rich in hyaluronic acid, which draws moisture from the air and holds up to 1,000 times its weight in water."
The October 18th issue of France 20 Minutes also spotlights hyaluronic acid from Ialuset raving, "For fighting wrinkles...IALUSET is the original skin repair cream. Rich in hyaluronic acid, it is considered by many women to be the best anti-wrinkle cream on the market."
Curious readers can learn more about hyaluronic acid in a short segment produced by ABC News hosted by Connie Chung, titled, "The Miracle of Hyaluronic Acid" viewable at http://www.hyaluronic-acid.net.
In essence, the discovery of hyaluron was made in a small village 2 hours outside of Tokyo, where 10% of their inhabitants are more than 80 years old (ten times more than that of the U.S.) with near non-existent sickness, cancer, dementia, body aches, and wrinkles due to their unique diets even in lieu of unhealthy habits such as smoking. The common ingredient among many of their foods was studied, concentrated from newly discovered sources, and hyaluronic acid has been made available in edible and topical form with similarly demonstrated health results.
French cosmetics and beauty products are world-renowned for their purity and high concentrations of active ingredients, and hyaluronic acid face cream from Ialuset is no exception. Its cream form moisturizes skin compared to serums without sacrificing potency, and its price point is a bargain costing half as much as other products in its large 7-inch aluminum 100g tube. French sales in the U.S. have grown sharply due to customer-friendly norms such as free shipping with tracking worldwide.
To avoid sunburns in the first place, top sites and magazines continue to rave about La Roche-Posay's Anthelios XL Ultra-Leger (Light) SPF 50+ sunblock. The product is the new name for their Fluide Extreme, and continues to have the highly sought-after ingredient "Mexoryl" (drometrizole trisiloxane).
Vogue Australia recently wrote, "Anthelios XL SPF 50+ has higher protection against UVA rays, which cause signs of ageing by destroying collagen and elastin, and which contributes to skin's wrinkling and sagging...In response, cult French brand La Roche-Posay has re-introduced its Anthelios XL, which has very high protection against UVA and is fully compliant with the new SPF50+ broad spectrum criteria."
Shortly behind these other must-have French iconic products is Homeoplasmine cream. Homeoplasmine is another OTC French ointment with similar rave reviews from top fashion magazines used for healing dry, cracked skin and lips. Make-up artists buy Homeoplasmine online as their secret weapon for making models look fresh and hydrated before shoots.