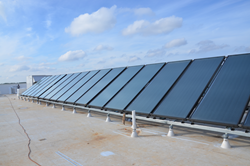 We strive to provide a quality product while minimizing the impact on our environment, and by following the LEED standards, we are able to do just that.
Raleigh, NC (PRWEB) March 25, 2014
Hyatt Place Raleigh-West and Southern States Management are excited to announce an Earth Day event to celebrate the hotel, as it is one of only a few U.S. Green Building Council LEED-certified hotel options in the Raleigh area.
When receiving LEED certification, Hyatt Place Raleigh-West was evaluated on energy efficiency in a variety of categories including sustainable sites, water efficiency, material and resources, innovation as well as other features. The hotel meets these criteria through several initiatives, including on-site electric car charging stations, solar panels to generate hot water, energy efficient HVAC systems, energy efficient landscaping, hotel transportation powered by propane gas, and many others.
"We are very proud to be a LEED-certified hotel," said Bob Ray, owner of Southern States Management. "We strive to provide a quality product while minimizing the impact on our environment, and by following LEED standards, we are able to do just that. We look forward to the opportunity to exhibit our beautiful property, while entertaining local business leaders and guests on Earth Day."
In addition to the environmental aspects of the hotel, Hyatt Place Raleigh-West offers business and leisure travelers alike an excellent location in a growing part of the Triangle, and is just minutes from PNC Arena, State Fairgrounds, downtown Raleigh, RDU Airport, and Interstate 40. The hotel also boasts a combined 5,400 square feet of high-tech, flexible pre-function and meeting space; complimentary Wi-Fi throughout the hotel; the 24/7 Gallery Menu & Market; the Coffee to Cocktails Bar; and many other stunning features.
The Earth Day celebration at Hyatt Place Raleigh-West will take place on Tuesday, April 22, from 4:00 p.m. to 7:00 p.m. Business leaders, loyal customers and other guests have been invited to attend and explore the LEED-certified hotel and learn more about its commitment to the environment.
For Hyatt Place information or to make a reservation, call 1-888-HYATT-HP (888-492-8847) or visit http://www.HyattPlace.com.
Hyatt Place Raleigh-West Leadership
Hyatt Place Raleigh-West is under the leadership of General Manager Ali Dixon and Director of Sales Cathy Gilbert. In her role, Dixon is directly responsible for managing the day-to-day operations of the hotel, including overseeing the hotel's 40 associates and ensuring guests encounter the purposeful service for which Hyatt Place is known. Dixon is joined by Gilbert, director of sales, who is responsible for providing sales service and support to travelers and meeting planners frequenting the Raleigh area.
About Hyatt Place
Launched in 2006, Hyatt Place brings to the upscale select service hotel category the authentic hospitality for which Hyatt is known. Inspired by multitasking travelers' 24/7 lifestyle, Hyatt Place combines stylish design and practical amenities with a forward-thinking guest experience and purposeful service. Roomy rooms feature multiple areas to work and relax, and include the in-room Cozy Corner; plush Hyatt Grand Bed®; and separate workspace. Guests can also enjoy free Wi-Fi and remote printing everywhere, 24-hour StayFit Gym, Coffee to Cocktails Bar offering specialty coffees and a variety of premium beers, wine and cocktails, and a 24/7 Gallery Market including freshly made grab n' go sandwiches and salads and a Bakery Case filled with items sure to satisfy the sweet tooth. The 24/7 Gallery Menu offers freshly prepared meals any time day or night, in addition to the free a.m. Kitchen SkilletTM served daily for guests, featuring hot breakfast items, fresh fruit and more. The Odds & Ends program also has guests covered with items they may have forgot and can buy, borrow or enjoy for free. Specially trained Gallery Hosts are on hand to offer assistance with everything from directions to check-in to a freshly made meal.
Hyatt Place, a brand of Hyatt Hotels Corporation, offers more than 180 locations in the United States, Armenia, Costa Rica, India, Mexico, Puerto Rico and the Netherlands. For Hyatt Place information or to make a reservation, call 1-888-HYATT-HP (888-492-8847) or visit http://www.HyattPlace.com.
About the U.S. Green Building Council
The U.S. Green Building Council (USGBC) is committed to a prosperous and sustainable future through cost-efficient and energy-saving green buildings. USGBC works toward its mission of market transformation through its LEED green building program, robust educational offerings, a nationwide network of chapters and affiliates, the annual Greenbuild International Conference & Expo, the Center for Green Schools and advocacy in support of public policy that encourages and enables green buildings and communities. For more information, visit usgbc.org, explore the Green Building Information Gateway (GBIG) and connect on Twitter, Facebook and LinkedIn.
About LEED
The U.S. Green Building Council's LEED green building certification system is the foremost program for the design, construction, maintenance and operations of green buildings. Every day, more than 1.5 million square feet of space is certified using LEED. More than 57,000 commercial and institutional projects are currently participating in LEED, comprising 10.5 billion square feet of construction space in 147 countries and territories. In addition, more than 50,000 residential units have been certified under the LEED for Homes rating system. Learn more at usgbc.org/LEED.