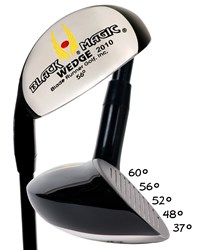 Revealing One of the Most Advanced, Intuitive, Player Friendly Hybrid Golf Wedge Available Today, Thanks to the Revolutionary Design of Black Magic Wedge
Nationwide (PRWEB) February 06, 2014
Start taking real control of your short game with new technology in a hybrid golf wedge from Blade Runner Golf, a company that has specialized in the short game for many years and knows that the majority of strokes on a score card are from short yardage for too many players.
To make a claim best sand wedge or best wedges in golf would be ridiculous because what the tour players feel would be the best for them are more than likely not going to be the best choice for an 18 handicap player. There are a lot more 18 handicap players then there are tour players, this is why Blade Runner Golf started designing wedges in 2005 from the ground up for the average players. Their full line of hybrid wedges has been well received worldwide from all skill level of players. Recently one of the top golf instructors, Dean Reinmuth, tested the wedges and found them to be very easy to hit for sand shots to heavy rough and everything in between with great control.
All the Black Magic Wedges conforms to USGA Rules. Some of the unique features of these wedges lie with a zero degree bounce angle at impact. As these clubs go through shots they ride on a continual curve sole plate that greatly reduces chunking. The flat iron typical type face has a sharp leading edge that wraps completely around the heel of the club which allows players to open the face up naturally for shots that need more and faster lift without the fear of shanking. These wedges can give players the confidence to trust their ability to pitch or chip shots to a specific spot on the green, which should make golf a lot more fun.
The Black Magic Wedges are made with top level materials for long lasting and feature a no hosel on the face of the club with an extra wide sole plate. These advance wedges are very affordable compared to other wedges on the market.
ABOUT:
Black Magic Wedge. is a company devoted to the notion that a golfer's short game can make all the difference in his or her final score—but you can take your short game to the next level only if you has the right equipment. Black Magic's hybrid wedges Conform to USGA rules, but also helps golf enthusiasts find new precision and power as they make their way onto the putting green and they can be accessed on the web at: http://www.blackmagicwedge.com.
Contact:
Black Magic Wedge
10850 Dover Street
Suite 500
Westminster, CO 80021
Toll Free 877-799-6099