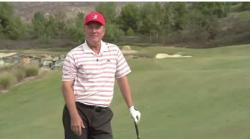 Top Teacher Dean Reinmuth Endorses Black Magic Wedges
Rancho Santa Fe, CA (PRWEB) February 26, 2014
Recently, Black Magic Golf took its set of hybrid wedges, known as "HWedges," to the Crosby National Golf Club in Rancho Santa Fe to have them reviewed by top teacher Dean Reinmuth. Mr. Reinmuth is best known as a host and announcer for over a decade on Golf Channel. He has also coached many professional golfers to win on several tours around the world. Dean was Phil Mickelson's golf coach for over 12 years from the age of 14 up through his first 6 years on the PGA Tour. He also coached Dave Stockton, Dave Stockton Jr., Rory Sabatini, Hee Won Han and most recently with Ricky Barnes on the PGA Tour.
Black Magic wanted to see what a top golf coach and instructor would say about the new hybrid wedges. The company provided the "Dean of Golf" various lofts. First he hit a series of approach shots from about 140 yards out with the Approach HWedge, a 37º hybrid club designed to help average golfers hit higher, straighter shots at the same distance as their own 8 or 9 irons.
"The Approach Hybrid could really help a lot of amateur golfers. It is easy to swing and the face forward design with the weight of a hybrid sends the ball higher with more spin than a traditional mid iron of the same loft. Most golfers will have success hitting more greens if they use this club," Mr. Reinmuth stated.
Black Magic also asked Dean to hit some shots with the 56º Sand HWedge from various conditions including rough and deep sand traps. After hitting many different challenging trouble shots of various lengths he expressed the ease of which the club gets the ball up and out.
"Many golfers I see struggle in the sand, especially with longer bunker shots. The HWedge was very easy to hit long bunker shots with and I sense it will allow a lot of people to use a more simple swing to get the ball out and onto the green."
Black Magic Golf invented the hybrid golf wedge known as the HWedge by using a patented face forward design that features USGA legal wedge grooves and the large sweet spot on the face assists with off center shots.
About:
Black Magic Golf invented the HWedge using a patented face forward hybrid design that features USGA legal wedge grooves and a large sweet spot on the face. Black Magic Hybrid Wedges help golf enthusiasts find new precision and high, soft shots as they make their way onto the green. Black Magic Wedges come in 37º, 48º, 52º, 56º and 60º Right Hand Lofts and 56º Left Hand Loft.
The HWedge is available online through HWedge.com.
Contact:
Brad Cochran, General Manager, brad(at)blackmagicgolf(dot)com
Black Magic Golf, 10850 Dover Street, Suite 500, Westminster, CO 80020 or call toll-free 877-799-6099.
To see YouTube video of the Dean's testimonial, visit http://youtu.be/4yDGBt6ac-U.