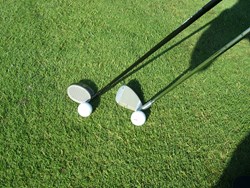 Simplify Your Short Game With New Hybrid Golf Wedges By Black Magic Wedge.com
Nationwide (PRWEB) September 10, 2013
The hybrid golf wedge is a godsend, for golfers of all skill levels for the long game because of the low center of gravity that will get the ball up much faster and easier then irons. Blade Runner golf, Inc. has a new set of golf specialized wedges that offers the best of two clubs, a hybrid body with a iron face that has the hosel removed and opens the door to an all new approach to the short game.
The traditional golf wedge has a thin bottom designed so players could strike the ball first on their path down taking a divot out in front of the ball. The key to this shot is the hands leading which would produce a shot with great spin and control. The problem is that the average player does not have their hands leading through the shot which is a big cause of hitting shots thin sending the ball low to the ground. One of the many features of the new Black Magic hybrid wedge is that the clubs were designed to force the hands to lead through the shot.
When a golfer sets a Black Magic hybrid golf wedge down on the turf they will see the leading edge is snug against the ground and their hands are in front of the golf head naturally. When they make a swing with one of the full line of golf wedges from Black Magic, the hybrid bottom will keep the head from getting stuck in the turf which will allow the player to complete their swing smoothly.
Another feature of the Black Magic golf specialized wedges has a face free hosel design that eliminates shanks. Any player that likes to lay the face open for certain shots will love this hybrid golf wedge that has a leading edge that wraps around the heel of the club leading the way through the shot instead of a hosel that is on standard type golf wedges.
Golfers will be amazed how fast they can get the ball in the air with the low center of gravity in this hybrid golf wedge . The full line of Black Magic's golf specialized wedges, conforms to USGA Rules and carries two United States Patents.
The Black Magic line of golf wedges, garner rave reviews from industry professionals. Though specialized golf wedges involve a lengthy design and manufacturing process, the clubs remain affordable.
ABOUT:
Blade Runner Golf, Inc. is a company devoted to the notion that a golfer's short game can make all the difference in his or her final score—but you can take your short game to the next level only if you have the right equipment. Black Magic's hybrid wedges Conform to USGA rules, but also helps golf enthusiasts find new precision and power as they make their way onto the putting green. Black Magic Wedge can be accessed on the web at: http://www.blackmagicwedge.com.
Contact:
Black Magic Wedge
2519 McMullen Booth Rd
Suite 510-129
Clearwater, FL 33761
Phone 727-726-5737
Toll Free 877-799-6099