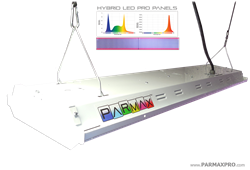 Sisters, Oregon (PRWEB) May 23, 2014
Through groundbreaking advancements in recent technology, the industry of energy efficient plant lighting has changed dramatically. LED lighting is considered the leader in new plant lighting technologies and has recently jumped well in front of induction and plasma as the most efficient commercial plant lights. In the last year, lumen output in LED lighting has increased one of the most important variables in commercial plant light, intensity. LED plant lighting nearly doubled their intensity from 62 lumens per watt to nearly 150 lumens per watt.
Another critical milestone for commercial plant lighting technology was also recently achieved. Envirolux©, a manufacturer of commercial LED luminaries which has the #1 ranking with Department of Energy for efficiency has designed a new lighting system that can now evenly broadcast specific PAR spectrums to plants. This is not accomplished through what traditional LED makers used in the past such as providing specific light in various nanometers (nm), but through a new technology involving the chemistry of adding phosphorus elements inside each LED diode. When mixed with photon light energy created by the LED the phosphorus spectrum is broadcasted and diffused throughout the correct plant light color spectrums. With traditional LED technologies, only one or a few of the specific colors in the PAR light spectrum or a particular nanometer (nm) in the measurement of light is activated. Now LED plant lighting can provide complete PAR spectrums without deficiencies.
Envirolux© offers this new technology through an exclusive partnership with Smart Grow Technologies, INC. and in their extensive research together they found plants only need a specific spectrum of light to fully enhance photosynthesis. By adding custom phosphorus elements in high intensity Hybrid LED Panels this new technology now delivers 90% useable PAR light which is far and away the most efficient and intense plant light available on the market today.
Studies done by Envirolux© at the University of Washington have proven how effective these lights actually are. From quicker yields to running on 75% less energy than traditional lighting such as Metal Halides and High Pressure Sodium plant lights, the research results have been staggering. This new technology is now available under the PARMAX™ Professional Series brand by Smart Grow Technologies.
Plants appear green because they actually reflect and do not absorb very much of that color for growth. The plant needs only a little bit of green and yellow light for chlorophyll development. We see the light reflected off of the plant and that color appears to us as green through the optics in our eyes.
Traditionally, indoor growers have used metal halide and high pressure sodium lights for growing and flowering plants. The efficiency of these lights is very low for plant growth. This is due to the fact that a significant portion of the light energy is focused in the yellow and green range of the light spectrum. Plants do require this part of the spectrum but all in all use very little yellow and green light. In fact plants mostly reflect it, and that is why the plants appear green. A significant amount of energy is wasted in the heat the bulb puts out and the primarily yellow light it produces. Plants need specific blue and far red light spectrums for growth and flowering. PARMAX™ Professional Series LED Hybrid Panels are engineered to be 90% efficient in the PAR light spectrum for plant growth compared to HPS which only produces 10% usable light for plants. Additionally, traditional bulbs need to be replaced every six to eight months whereas LED technology can last up to 10 years with little lumen drop off.
PARMAX™ Professional Series LED Hybrid Panels are proven to be 70% times more efficient than traditional grow lights. The release of these highly efficient lights will likely set new benchmark for the horticulture industry by cutting energy costs, increasing production levels, and providing growers quicker yields. PARMAX™ Professional Series LED Hybrid Panels deliver precisely the right amount and PAR light to the plant at the most optimal time of the plant's cycle, energy is saved and heat is not wasted by any of the light produced. This cuts overhead costs and delivers more product of the highest quality.
Now Urban Farms using vertical gardens to bring the food source from the farms to the inner city can do so without breaking the bank. Commercial Greenhouses looking to add supplemental lighting, Home Growers, Aquaponics farms using both fish and food can all can maximize their yields using PARMAX™ Professional Series LED Hybrid Panels.