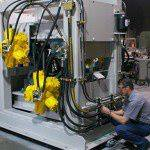 Springfield, MO (PRWEB) April 28, 2014
Tod Pearson, hydraulics expert at Yarbrough Industries, narrates each video in the "Hydraulic Repair Interview Series." Each video addresses four issues involving the repair of the featured part or piece of equipment: 1) a fact about the equipment that the average customer probably does not know 2) the most common repair the specialists at Yarbrough Industries make and why 3) what can go wrong to make the repair ineffective, and 4) the tests Yarbrough performs on the repair to ensure that it is a high-quality fix before releasing the equipment to the customer.
In the video about hoses, Pearson notes that careful examination of a hose may tell a person that it will soon fail. That's because as it wears, more and more of the steel braids become visible. Incidentally, he notes that most hoses cannot be repaired. In the video about hammers, he points out that they are difficult to repair because they are large and heavy. Furthermore, to service them, Yarbrough Industries specialists usually have to take them apart to get to the parts, which the specialists then polish to make them smooth again. The parts inside heavily used hydraulic hammers are susceptible to dents.
The videos run from two minutes (2:35 for "Hydraulic Jack Repair") to five minutes (5:12 for "Hydraulic Valve Repair"). Viewers can see them on the company's website at yarbroughindustries.com/repair. In addition to the videos, the website presents transcripts of each video so people can print and save the information for future reference.
About Yarbrough Industries
Yarbrough Industries has been providing on-time, cost-effective solutions for our customers since 1946 in the areas of Fabrication, Machining and Hydraulics. Yarbrough offers advanced-technology engineering and fabrication processes and the widest selection of machinery capabilities in the area. Yarbrough Industries is a premier hydraulic parts and service provider who carries or has access to nearly any hydraulic part customers need. The full-service repair and remanufacturing department and mobile service truck can handle any repair job, from pumps, motors and hydrostatic drives to heavy equipment and welding work.
Contact
Tod Pearson
http://yarbroughindustries.com
Yarbrough Industries
514 N. Fremont Ave.
Springfield, MO 65802
(417) 869-5344