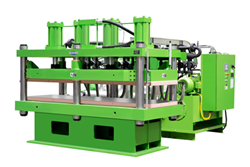 Piqua, Ohio (PRWEB) January 20, 2015
French Oil Mill Machinery Company recently developed a six post downacting hydraulic composite molding press to be used in a specialized manufacturing process.
The custom designed automated press features specialized thermo fluid heated platens with multiple zones. The customer's composite material enters the press onto the incoming heat zone for material preheating. After the preheat time elapses, the material automatically advances to the press' second platen zone, heating to final cure temperature. A space between the first and second platen zone helps maintain platen and product temperature uniformity. After the complete cure cycle, the material exits the press through a trimmer and is automatically loaded to rollers.
The heated platen temperature is programmable through a Siemens press controller mounted next to press. The temperature control system takes signal and automatically regulates heaters and control valving for accurate platen temperature control. To meet production requirements, each zone heats from ambient to its peak operating temperature in less than one hour.
The composite press controller also controls overall press operation, including cycle times and pressures. The operator interface features a color screen and provides screen display of functions and set values that can be changed or adjusted, as required. A modem installed in the press controller allows French electrical engineers to make minor control modifications or updates as needed.
Also mounted to the press side is a linear transdual transducer to display the position of the press moving bolster and can be used to change press speed, track safety measures, display part thickness and trigger press alarms when the press is not achieving desired material thickness.
The hydraulic system consists of a self-contained oil hydraulic unit and an energy efficient motor. The hydraulic pump and motor combination allow press fast closing, opening and adjustable tonnage.
French fully assembled and tested the press system for the customer's inspection prior to shipment. As part of the negotiated contract, French provided ten working days at the customer's international site for press support, start-up and training.
French Oil Mill Machinery Company has been the industry technology and quality leader since 1900, serving customers in over 80 countries. The family-owned company custom designs, manufactures and supports a wide assortment of stand-alone, ISO-certified French and TMP brand hydraulic presses and turnkey systems for the lamination, composite, friction and rubber industries. Press tonnages generally range from 10 to 2,000 tons, with various platen sizes. French presses are well known for their superior value, very low deflection, rugged construction, long life and industry-leading three-year warranty. French's 225,000 square foot corporate office and manufacturing facility are located in Piqua, Ohio.
A French sales representative will be displaying French and TMP, A Division of French composite presses at the JEC Europe Composites Show taking place March 10-12, 2015 in Paris, France.