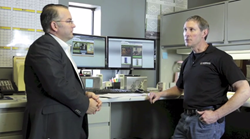 Serving Customers Since 1946
Springfield, MO (PRWEB) October 16, 2014
Rusty Raynaud, the owner of the leading hydraulic repair and fabrication business Yarbrough Industries, participates in an exclusive interview about his company, which has been serving the residents of and around Springfield, Missouri, since 1946. The interview is short, coming in at just under a minute, and can be found on the Yarbrough Industries YouTube page.
Speaking casually with the interviewer, Raynaud gives the viewer a bit of background on the business of which he is so proud to be the owner. "Yarbrough Industries is a 60-year-old company, started by my grandfather," he says. "We serve the local community with machining, fabrication, welding, and hydraulics."
At one point, the interviewer mentions the Yarbrough Industries motto: "If you can't fix it, pitch it!" Raynaud explains that the phrase is centered on hydraulic and industrial repair.
"We do a lot of repairs for industries that may be that the repair requires machining or welding," he adds.
Besides repair and fabrication, Yarbrough Industries provides a very large array of parts, such as hydraulic hoses, adaptors (standard and metric), couplers, valves, cylinders, filters, accumulators, oils, manifolds, pneumatic parts, oil coolers, gauges, log splitter pumps and valves, seal installation tools, hydraulic brakes, steering components, and much more.
In addition to its YouTube page, Yarbrough Industries makes itself available on many more social media platforms, including Facebook, Google Plus, Twitter, LinkedIn, and Pinterest. Yarbrough Industries often uses their social media presence to provide information about the company itself, such as in this interview, or to offer its existing and potential clients a chance to get discounts and learn about other promotional offers.
About Yarbrough Industries
Yarbrough Industries has been providing on-time, cost-effective solutions for our customers since 1946 in the areas of Fabrication, Machining and Hydraulics. Yarbrough offers advanced-technology engineering and fabrication processes and the widest selection of machinery capabilities in the area. Yarbrough Industries is a premier hydraulic parts and service provider who carries or has access to nearly any hydraulic part customers need. The full-service repair and re-manufacturing department and mobile service truck can handle any repair job, from pumps, motors and hydro-static drives to heavy equipment and welding work.
Contact
Tod Pearson
http://yarbroughindustries.com
Yarbrough Industries
514 N. Fremont Ave.
Springfield, MO 65802
(417) 869-5344