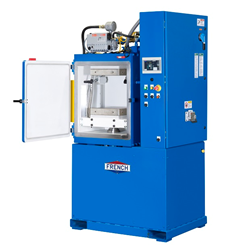 [We are] very excited to have these greater processing capabilities and [are] very pleased with the equipment performance.
Piqua, Ohio (PRWEB) February 07, 2017
TMP, A Division of French custom designed a 32 ton vacuum lamination press for a customer specializing in printed circuit board development and research of future applications and markets.
The heavy duty, fully automatic press has high temperature capabilities to 800ºF and also maintains precision temperature control in both heating and cooling. The press is equipped with a complete vacuum system and a well-guided clamping system for very uniform pressure distribution.
The press features the TMP Edge Advanced Control System allowing processing recipe storage at press, real time data of all press data points, actual vs. setpoint for time, temperature and pressure values throughout the cycle. The operating data can be easily downloaded via USB port and converted into Microsoft Excel files for analysis and for operation repeatability.
Because the press was developed for a laboratory environment, it includes a low vibration and low noise level package. However, the press design is also very suitable and economical for a number of low production applications. The press can be designed with a range of platen sizes and tonnage capacities.
At press installation, TMP provided assistance in maneuvering the press into the customer's facility and into place, including instruction for leveling and anchoring the press, re-assembly of hoses and wiring between various equipment pieces. TMP technicians performed operator training with written start-up and operating instructions as well as providing a complete set of hydraulic and electrical schematics.
The first customer to place the press into operation stated they were "very excited to have these greater processing capabilities and [are] very pleased with the equipment performance."
Lamination Press Key Features:

Uniform and high temperature control package
Closed loop proportional pressure control
Closed loop heating & cooling control with adjustable ramping
Optimized footprint to reduce floor space
Vacuum package
Process data collection and recipe storage
Quiet, low noise package
To learn more about lamination presses offered by TMP, A Division of French, visit them in booth 3600 at the IPC Apex Expo taking place in San Diego, California, from February 14-16, 2017.
TMP, A Division of French, designs, manufactures, rebuilds, and services hydraulic presses, lamination presses, rubber mixers and related components, advanced controls and auxiliary equipment. TMP's commitment to quality, our proven technology and dedicated service teams allow customers to produce higher quality products with increased production rates and reduced operating costs. In 2009, TMP was acquired by French Oil Mill Machinery Company and subsequently relocated to their Piqua, Ohio, worldwide headquarters and manufacturing facility.