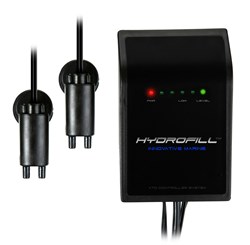 The HydroFill Pump and ATO Controller are like nothing you've seen before.
Garden Grove, California (PRWEB) July 30, 2013
Internet retailer MarineDepot.com has partnered with Innovative Marine for the release of two hotly anticipated products in the aquarium community: the Innovative Marine HydroFill Pump and HydroFill ATO Controller System. Both are available now for pre-order at MarineDepot.com. Marine Depot will also be the first store to receive stock to fulfill pre-orders and purchases for early adopters.
"We support companies like Innovative Marine that develop solutions that are truly unique," said Ben Ros, Director of Operations for Marine Depot. "They put themselves into the customer's shoes and ask, 'How can I make caring for my aquarium easier?' The answer is often simplifying or eliminating the daily chores aquarium owners have to perform."
The Innovative Marine HydroFill ATO Controller uses water's conductive properties to complete a low-voltage circuit that causes a control relay to actuate and replenish aquarium water as it evaporates. Having a system that automatically adds fresh H2O means less buckets of top-off water have to be lugged through the home—half of which usually ends up on the carpet anyway— along with the benefit of more stable water parameters.
"Maintaining stability is one of the keys to keeping a successful aquarium," notes Ros. "Especially saltwater systems where proper salinity, temperature and elements like calcium are delicately balanced to mimic conditions in the ocean."
The sensors in the HydroFill ATO Controller use rare neodymium earth magnets for safe, stationary placement and simple out-of-the-box installation. Two chemically inert graphite electrodes are housed in each sensor for redundancy and consistent long-term performance in harsh marine environments. This departure from outdated float sensors offers greater accuracy and no-moving parts reliability. The small form factor also makes the HydroFill an ideal choice for nano aquariums and full size tanks alike.
"The dual graphite sensors are an awesome design choice and super reliable," said Robert Farnsworth, Marine Depot's Media Coordinator and owner of a colorful 45-gallon mixed reef aquarium. "The strength of the HydroFill pump tops everything else out right now. I'm pushing fresh top-off water to my tank from a reservoir hidden in another room in my home."
The HydroFill Pump is the industry's first low-voltage air lift pump designed specifically for auto top-off controllers. The HydroFill is an external positive displacement diaphragm pump that can push up to 15 gallons of water per hour to a height of five feet. The self-priming pump is equipped with a built-in check valve to safeguard against back siphoning and is a smart alternative to submersible pumps, since diaphragm pumps can run dry and are thermally protected against heat build-up.
"Like any other industry, the aquarium marketplace has its share of 'me too' type products," said Ros. "The HydroFill Pump and ATO Controller are like nothing you've seen before. I know many of our employees will be using these products with their own aquariums. I know I will."
About Marine Depot
MarineDepot.com is the world's #1 supplier of marine and reef aquarium supplies. The company was founded in 1997 by self-professed "fish geek" Ken Wong after he became frustrated by the lack of selection and support provided by many local fish stores. Today, Marine Depot offers over 7,000 popular and hard-to-find products with free technical support provided by a staff of aquarium experts known as the Reef Squad. MarineDepot.com employs 45 full- and part-time employees in Garden Grove, CA. The company was included in the Inc. 500|5000 List of Fastest Growing Businesses in 2011 and is a 3-time Top 500 Internet Retailer and BizRate Circle of Excellence winner.
###