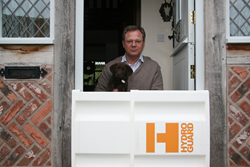 This is a great product with the potential to solve a lot of problems that people who face flooding have. It's a one-time, affordable buy that can be re-used over time as you move and door sizes change.
LONDON (PRWEB) September 17, 2014
Floods are among the costliest natural disasters that take place throughout the world, and just a small flood can wreak havoc on personal property, ruining treasured possessions and resulting in astronomical bills. Hannes Floto, personally affected by multiple floods, chose to embark on a journey to create a better solution for those who experience flooding. His new flood barrier, HydroGuard, features innovative sliding technology and is now available for pre-order on Indiegogo at a starting price point of £199.
Hydroguard is the world's first affordable flood barrier that will fit to any standard door. It was designed to provide a better alternative to the more expensive, yet less adaptable and effective flood barriers out there. Using the clever sliding system, homeowners can install the device to any standard door or doorframe size and clamp it in to create a protective seal against water ingress and debris damage. As an alternative to sandbags, HydroGuard is more sanitary and effective, as well as more convenient to store.
HydroGuard protects against floods of a few feet but lets higher waters in so that the entire house structure is not compromised, as more than 3 feet of water can apply enough pressure for permanent damage to the structure. In this unfortunate case, HydroGuard supplies the valuable time to rescue belongings to a safer place.
"When my home flooded, it was a devastating time for myself and for my family," said Floto. "And, when it flooded again a few months later, I just knew there had to be a better way than dirty, ineffective sandbags or existing panels. So, that's when I decided that it was time for me to get together with some engineers and develop a solution that would really benefit people – one that was reusable, adaptable and more affordable."
The startup has spent months and a great deal of money designing and perfecting the technology behind HydroGuard. The team has released the final version for pre-order on Indiegogo in hopes of acquiring enough orders to cover initial manufacturing costs. They then plan to continue to diversify their product offering by developing other flood preparation and damage prevention products.
"We're excited to launch HydroGuard, and we're hoping that people will not only see the benefit for themselves, but also for everyone who could be affected by flooding," said HydroGuard Co-Founder James Browne. "This is a great product with the potential to solve a lot of problems that people who face flooding have. It's a one-time, affordable buy that can be re-used over time as you move and door sizes change."
In order for the team to raise the necessary funds to get their production off the ground, they are running a thirty-day Indiegogo campaign. Early birds can buy the first 100 panels for just £199. After this, panels will cost £219 – £239, both discounted from the eventual retail price of £249. Multipacks to cover several ground-level doors can be purchased for £438 – £657. The team is also offering branded rubber ducks and umbrellas for those who would like to back their business, but do not want to commit to a flood barrier presently. To back HydroGuard's Indiegogo campaign today, visit http://bit.ly/HydroGuardIGG.
ABOUT HYDROGUARD
The idea for HydroGuard came to Hannes Floto after two of his houses fell victim to floods. The two houses, one in Maryland, America and the other in Athens, Greece, were both settled in regions not prone to flooding. After suffering extensive damages from small floods, Floto decided he would invent a way to protect all future houses from floodwaters. With the help of James Browne, Robin Harris and with the professionals of Studio17 Design, Floto managed to come up with a product which met all of his requirements, while still maintaining a simple, streamlined design. To learn more about HydroGuard, visit their website at http://www.hydroguard.co/.