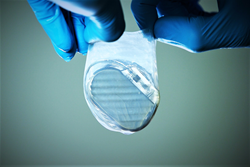 ZURICH (PRWEB) December 17, 2019
HYLOMORPH AG, a Swiss medical device company focused on reducing complications associated with fibrotic encapsulation of implantable medical devices, publishes results of a long-term preclinical animal study.
The study, entitled, "Microengineered biosynthesized cellulose as anti-fibrotic in vivo protection for cardiac implantable electronic devices," by Robotti et al. was published in Biomaterials on October 31st, 2019. Work was performed in collaboration with ETH Zurich, Wyss Zurich, the Division of Cardiovascular Surgery Charité Berlin, the Deutsches Herzzentrum Berlin, Vetsuisse and EMPA.
The publication describes a twelve-month study performed in the minipig, investigating the performance of a novel permanent-implantable anti-fibrotic membrane (Hylomate®), when applied around implantable cardiac electronic devices (CIEDs). Sixteen animals were each implanted with one pacemaker covered by the Hylomate® membrane and one native pacemaker at equivalent anatomical sites.
Explants at 3 and 12 months showed that the Hylomate® membrane was intact and had provided total protection of the pacemaker from the surrounding surgical pocket. Fibrotic scar tissue was reduced by up to 80% preventing entrapment of the pacemaker and proximal leads in the surgical pocket.
Simone Bottan, HYLOMORPH CEO, stated, "This study has shown the clinical potential of a safe, minimally fibrotic, and stabilizing interface between the implant and the surgical pocket. Our hope is that this will help to create the conditions for simplified CIED revision surgeries and reduce complications in patients."
About HYLOMORPH AG
HYLOMORPH AG is a clinical stage medical device company developing Hylomate®, a soft hydrogel membrane comprising biosynthesized cellulose with a surface microstructure rationally designed to interfere with the biological processes involved in foreign body reaction. Compatible with any soft tissue implantable medical device, Hylomate® will be developed in indications where fibrotic tissue build-up produces unwanted complications and potential device failure.