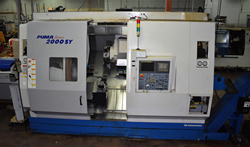 "We are expecting spirited bidding at our offering at [the Custom Wood Products'] large multiple-location auction," said Assistant Auction Services Director Jake Josko. "Interested bidders should sign up early and review the items available."
WOOD DALE, Ill. (PRWEB) June 10, 2019
HYPERAMS, LLC recently announced the equipment auctions of several businesses, including a wood furniture manufacturer, a parts manufacturer, a bread baking plant, and a warehouse and office facility.
HYPERAMS is assisting in the online auction of Custom Wood Products. The auction includes two complete facilities' worth of woodworking machinery equipment, including CNC machining centers, a paint system, rolling stock, facility support, and raw materials. Online bidding starts June 10 and will begin to close June 12. "We are expecting spirited bidding at our offering at this large multiple-location auction," said Assistant Auction Services Director Jake Josko. "Interested bidders should sign up early and review the items available." The auction will be conducted in partnership with the Branford Group.
In addition, HYPERAMS is conducting the auction of DMI Products' satellite plant in Rockford, Illinois. "We're pleased to announce a two-day complete dispersal of a large parts production company," said Josko. "We will be offering late model CNC metal working machinery, a huge selection of screw machines, and screw machine parts and tooling, as well as a very nice selection of secondary operations equipment." The live/webcast auction will be held on June 26; the online auction will start closing June 27. The auction will be conducted in partnership with Cincinnati Industrial Auctioneers.
HYPERAMS is also assisting with the online auction of a large stock of surplus warehouse and office assets from an Illinois facility, including printers, furniture, shelving, tooling and milling machines, a portable AC unit, and more. "Our surplus warehouse auction is open for bidding," said Josko; the auction will start to close June 17. The auction will be conducted in partnership with Blumberg Machinery.
Finally, HYPERAMS is also assisting Schwebel Baking Company in the complete plant closure of its Solon, Ohio bread and bun baking facility. Available assets include dough mixing equipment, a high-production bread line, bread and bun packaging equipment (including 11 complete packaging lines), production support equipment, and select trucks and trailers. The live and webcast auction begins July 17. The auction will be conducted in partnership with Rabin Worldwide.
For more details on these and other upcoming auctions, please visit http://www.HYPERAMS.com or contact Director of Auction Services Burdette Wilber at bwilber(at)hyperams.com or Assistant Director of Auction Services Jake Josko at jjosko(at)hyperams.com. If you are interested in discussing our auction and liquidation solutions, please contact Senior Vice President Gene Arenson at garenson(at)hyperams.com.
About HYPERAMS, LLC
HYPERAMS is a full-service auction, appraisal, retail liquidation, and reverse logistics firm. We specialize in assisting both distressed and healthy companies manage surplus assets by providing a complete asset disposition strategy. The Asset Disposition division focuses on investing in and monetizing assets through orderly liquidations and live and webcast auctions. The Appraisal division provides valuations of machinery & equipment and inventory in all industry verticals. HYPERAMS has performed thousands of appraisals, auctions, and store closings on behalf of financial institutions, restructuring professionals, private equity firms, and business owners. Our reputation is our best asset.