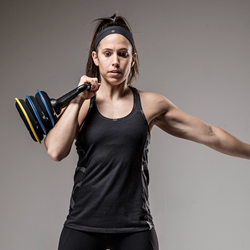 At Hyperwear we constantly innovate to create the best strength training solutions for our customers.
AUSTIN, Texas (PRWEB) April 14, 2019
Hyper Wear Inc., (Hyperwear), a leading innovator in functional fitness equipment that includes the SoftBell® soft weight plate system of dumbbells, barbells and kettlebells, has received a patent for the design of its SoftBell kettlebells. The United States Patent and Trademark Office has issued US patent USD844718S1, for its "Adjustable Fitness Kettlebell Handle." Full details are available in the published patent on the USPTO website. Hyperwear brought the SoftBell strength training weights to market in 2016 and continues to expand its proprietary line of products for fitness.
Said Hyperwear CEO and founder Dirk Buikema: "We have been excited to offer our innovative SoftBell system for fitness studios, and now we offer the best kettlebells for home gyms. The soft weight plate sets we created build on the success of our SandBell sandbags for strength training."
About Hyperwear: Hyper Wear Inc. is a world leader in fitness innovation creating UNCONVENTIONAL tools for UNCONVENTIONAL training™. Its innovative products include the Hyper Vest® weight vest, SandBell® sandbag training free weights, SteelBell® steel shot filled slam balls, and SoftBell® system of soft weight plates for dumbbells, kettlebells, barbells and hand weights. Hyper Wear's products have also been recommended by or featured in Men's Health Magazine, Women's Health Magazine, Prevention Magazine, ESPN Magazine, Muscle and Fitness, Men's Fitness, Shape, and other media. Email info(at)hyperwear(dot)com.