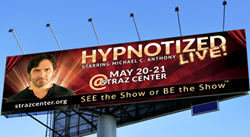 "I'm so excited to get to play in my home town," the internationally known performer said. "This doesn't happen very often. Get ready Tampa!"
Tampa, FL (PRWEB) May 14, 2016
High above the Bay area's stout skylines float mesmerizing eyes that eerily scan the horizon with a Svengali-like gaze—eyes belonging to Michael C. Anthony, the man VH-1 called "the best stage hypnotist on the planet." His message is clear: Get ready folks, "Hypnotized Live!" is coming to The Straz (http://hypnotizedlive.com).
Anthony, who lives in Tampa, is a client of MCA-Russell Johns (http://www.myclassifiedads.net), a full-service ad agency based in Florida.
"I'm so excited to get to play in my home town," the internationally known performer said. "This doesn't happen very often. Get ready Tampa!"
VH-1 has dubbed Anthony "the best stage hypnotist on the planet." He's been seen on CBS, ABC, NBC and Fox. He's the official hypnotist of The Illusionists. His award-winning show "Hypnotized" is a critically acclaimed "entertainment masterpiece that is considered the best of its kind in the world," according to Campus Activities Magazine, which recently acknowledged Anthony's nomination as "Performer of the Year" in its Best Variety Artist category.
It's not the first time Anthony has been so honored; he'd previously been named "Entertainer of the Year," "Male Performer of the Year" and "Novelty Performer of the Year."
For months Anthony has been intensely preparing to launch his newest enterprise "Hypnotized Live!" at Tampa's Straz Center. Audience members will have an opportunity to "See the Show or Be the Show," when 30 volunteers are invited onstage to engage in an evening of hilarious interactive theater.
"Anything can happen—and probably will," Anthony said.
Hypnotized Live! takes place at the Straz Center (http://www.StrazCenter.org) on Friday, May 20, and Saturday, May 21. Each performance is at 7:30 p.m. Tickets are $39.99 and $49.99. The address is 1010 N. Macinnes Place, Tampa, FL 33602. The show is a compilation, consolidation and distillation of what Anthony has learned and honed during a career in which he has hypnotized upwards of 50,000 people.
Billboards touting the upcoming program are at Dale Mabry Northbound (facing south) south of Lambright; US 19 Pinellas County Southbound (billboard faces north) before Whitney Road; and, I-275 North (billboard faces South) at Sligh Avenue.
Beyond the Straz, Anthony says he's lined up performances in Greenville NC, New York, NY; Jacksonville, FL; Waltham, MA; Asheville, NC; Davenport, IA; Dallas, TX, and Ames, IA—with many more locations to be announced.
In addition to his career as a performer, Anthony is also a successful author, having written "Body Language Secrets, How to Read Minds by Reading Bodies," which is available on Amazon. The book became a best-seller, thanks in part to TV and radio appearances in which Anthony has been routinely asked to interpret the body language of various presidential candidates, most particularly Donald Trump.
For more information about Anthony's upcoming show, call the Straz Center at (813) 229-7827 or visit http://www.HypnotizedLive.com.
ABOUT: Michael C. Anthony is a popular and award-winning entertainer. He is the only American stage hypnotist featured in "The Idiots Guide to Hypnosis" written by Dr. Roberta Temes. Anthony is available for interviews by calling (813) 920-0197 and asking for Jill Gartner.