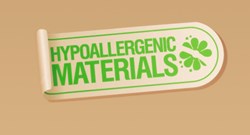 Phoenix, AZ (PRWEB) September 25, 2013
Many people experience allergies to dust mites, mold and mildew, which can be exacerbated by certain mattress types and habits. This is a problem because people spend seven to nine hours in bed each day, and allergic symptoms often disrupt sleep or cause discomfort upon waking. The Mattress Geek, a blog about beds, looks at mattress types and ways to reduce allergens in the bedroom in their latest article, "Hypoallergenic Mattress Types".
In the article, The Mattress Geek offers an overview on what makes a mattress good or bad in regard to allergies by describing the worst mattresses for allergies, three top hypoallergenic mattress types, and tips for maintaining a hypoallergenic mattress.
The two leading allergens described include dust mites and mold and mildew. The Mattress Geek explains that dust mites feed on shed skin cells and that up to 15% or more of the population has an allergy to the critters. They tend to collect in fibrous padding such as pillow-tops and open areas like those found in innerspring mattresses that may be difficult to clean. Mold tends to affect mattresses and fabrics that hold on to moisture, as well as those like air mattresses that may be prone to condensation.
The three hypoallergenic mattress types discussed in the article include latex mattresses, health memory foam mattresses, and hardside waterbed mattresses. In addition, a simple comparison chart is included to summarize performance of leading mattress types for readers.
The Mattress Geek ascribes benefits of pressure relief, durability and resistance to dust mites and mold to natural latex foam. The article briefly discusses latex allergies, and refers to a ConsumerMattressReports.org article comparing natural latex mattress brands. Memory foam mattresses are mentioned for their resistance to dust mites and exceptional pressure relief, though The Mattress Geek suggests choosing brands with certifications like CertiPUR, which checks for harmful chemicals and VOC levels. Waterbeds are also described as a good option since there is nowhere for dust mites to thrive, though the article suggests frequent cleanings to prevent mold and waveless models that offer improved support.
In order to maintain a hypoallergenic mattress environment, The Mattress Geek article highly recommends using waterproof, dust mite-proof mattress covers to prevent allergens. Additional tips include frequent washing of bedding, preventing spills, keeping pets off the bed and more. For readers with allergies or who care for people with allergies, the article provides useful and balanced information for mattress considerations.
The-Mattress-Geek.com researches mattresses and bedding products to provide consumers with reliable information. With a focus on facts and accuracy, the website provides detailed buying guides, answers frequently asked questions, and delves into topics of importance to shoppers.