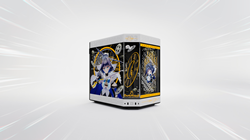 LOS ANGELES (PRWEB) November 17, 2022
HYTE, the PC components, peripherals, and lifestyle brand of iBUYPOWER, today, unveiled the new limited edition Ouro Kronii Y60 PC Case, in collaboration with hololive English team, represented by the COVER Corporation from Japan.
In HYTE's second collaboration with hololive English and illustrator Rosuuri, the beloved Ouro Kronii of holoCouncil comes to life along the tempered glass side panels of the uniquely designed Y60 PC Case. The famous VTuber is depicted on the main side panel holding up one of her blades while clock cogs appear to float in the background. On the corner glass, Kronii's white snake, Boros, sits atop a cog floating above a golden clock while a chibi version of Kronii embracing her Kronies plushie is depicted on the front glass panel.
"hololive English team and their talent pool has been incredible to work with, and we are happy to release our second collaboration with the Warden of Time, Ouro Kronii," said King Perez de Tagle, Marketing Executive Producer of HYTE and iBUYPOWER. "Kronies from around the world will enjoy an extremely limited-edition white HYTE Y60 PC Case with 360-degrees of Kronii artwork, including Boros!"
Across the top of the limited-edition HYTE Ouro Kronii Y60 and wrapping around to the back side panel of the case is the number pi, a nod to Kronii's "chosen" birthdate of March 14. Elements of the Warden of Time are included on virtually every surface of the Ouro Kronii Y60 PC Case, including her ribbon and catch phrase "GWAK" above the ventilated area of the back, side panel.
"It's been a real pleasure to have the opportunity to work with the team at HYTE and iBUYPOWER," said Ouro Kronii. "The case turned out amazing and they have been so responsive throughout the collaboration. I'd like to thank them once again for the experience!"
Kronies attending Anime NYC can view the HYTE Ouro Kronii Y60 PC Case in person at the iBUYPOWER and HYTE booth, #125.
Ouro Kronii desk pad included
Every order of the Ouro Kronii Y60 PC Case comes bundled with a matching Ouro Kronii HYTE DP900 desk pad.
Pricing and Availability
The limited-edition HYTE Ouro Kronii Y60 PC Case is expected to be available for pre-order to Kronies on November 17, 2022 from HYTE.com and at select global distributors starting December 1, 2022 for a starting MSRP of $280 USD. To reserve a HYTE Ouro Kronii Y60 PC Case, please visit: https://hyte.com/store/kronii-y60-case-deskpad-bundle
iBUYPOWER pre-built PC systems configured with the Ouro Kronii Y60 PC Case, including the Ouro Kronii Desk Pad, are expected to exclusively be available for purchase in early 2023.
Video
To watch the official HYTE Ouro Kronii Y60 launch video, please visit: https://youtu.be/OH0rIALt4O0
Images
For additional images of the HYTE Ouro Kronii Y60, please visit: https://hyte.co/kronii-media-package
About HYTE
HYTE is a lifestyle-centered brand focused on enhancing play with its fresh and innovative PC components and accessories. Designed to fuel passions in gaming, music, the arts and entertainment, all HYTE products are rigorously researched and tested before they are brought to fruition. HYTE, as a company and its products, are inspired by the needs and behaviors of its community and the many ways people play.
HYTE is committed to designing products to help people experience play throughout their lifestyle, no matter what that may be.
HYTE is a subsidiary brand of iBUYPOWER, a leading manufacturer of high-performance custom gaming PCs. HYTE, and its logo are registered trademarks of iBUYPOWER in the United States and/or other countries. Pricing, availability, features and specifications are subject to change without notice.
About hololive English
hololive English is a VTuber group that specializes in livestreaming and content creation that are aimed towards English-speaking viewer base.
About COVER Corp
COVER Corp is a start-up company in content creation and technology industry. Its vision is to utilize its VR/AR technology to create new culture of virtual talents who can be widely accepted in the global market.