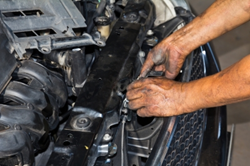 The upgraded inventory of used automobile engines that we are featuring on our website is supplied by more regional distribution companies this year
Houston, TX (PRWEB) August 25, 2015
The turbo vehicle motors now produced by companies like Hyundai in the United States are being used to power most sedan and luxury vehicles. The Powertrain Guys company is announcing that a revision has been made to its V8 inventory to include preowned Hyundai 3.3L car engines for sale. Information about what motor codes are available can be explored using the inventory system at http://powertrainguys.com.
The units recently acquired and made for sale on the Internet through the PTG website are Turbo GDI series blocks. These units are part of the Lambda II platform introduced for Hyundai and Kia automobiles. The V8 Tau builds in stock have been validated for 348 horsepower to ensure that no errors or problems will be present after consumer installations take place.
"The upgraded inventory of used automobile engines that we are featuring on our website is supplied by more regional distribution companies this year," said a rep from the PowertrainGuys.com website.
The 8-cylinder units that are in stock for luxury and sedan vehicles produced by the Hyundai company will receive automatic OEM parts protection through a new inventory policy created at the Powertrain Guys company. While each unit is a used condition block, most of the factory installed components will now be protected for a longer duration.
"The revised inventory of motors, transmissions and other vehicle components that we have the ability to supply all qualify for the warranty extensions available," the rep added.
The PTG company is in the process of including diesel vehicle components that include units for vehicles produced between 1990 in the current model year. An official announcement of components in stock will be made in the future on the company website.
About PowertrainGuys.com
The PowertrainGuys.com company is the leading North American resource to purchase used condition car, truck and minivan transmissions online. The company has revised the types of manufacturer products now carried in the company inventory. The PowertrainGuys.com company website is now featuring an immediate pricing system that accurately produces inventory price data.