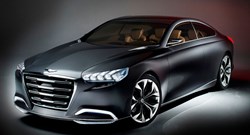 (PRWEB) July 24, 2013
Hyundai Motor Company has received definitive praise for the HCD-14 Genesis concept car at the 12th Annual North American Concept Vehicle of the Year Awards, where it has been named 'Concept Car of the Year' 2013. The HCD-14 was also awarded the "Most Significant Concept of the Year" title for scoring the highest among the category winning concepts.
The HCD-14 Genesis is considered the vehicle most likely to 'shape the future of the automotive industry', and marks the second time Hyundai has been awarded this prestigious title in the past five years. According to juror Bob Kroupa, one of the Principals of the Automotive Writers Group, "Hyundai's HCD-14 introduces future premium vehicle design, advanced 3-D gesture-based technology controls, and spirited driving dynamics. Its rear hinged back doors and fastback coupe design, add to the WOW factor."
Having been named "Production Preview Concept Vehicle of the Year" in 2008 for the Genesis Coupe, this second honour speaks directly to the strength of the Hyundai Motor Company Design team based who worked on the HCD-14 Genesis at the North American Design Centre in Irvine, California.
More than two dozen jurors participated in a selection process, involving a total of 23 vehicles, each introduced to North America during this season's auto shows in Los Angeles, Detroit, Chicago, Toronto, and New York.
The HCD-14 Genesis received praise for its state-of-the-art features and enhanced driver experience revealing the technological future of Hyundai's premium line-up with driver eye-tracking and hand-gesture recognition, thumb controls or gesture recognition used to select navigation, infotainment, audio, HVAC, and smartphone connectivity functions.
"It's exciting to see the overwhelming positive response and feedback we have received for the HCD-14 Genesis Concept," said Chris Chapman, chief designer, Hyundai Design, North American Design Center. "HCD-14 Genesis provides a glimpse of Hyundai's future and showcases the emphasis we are placing on driving dynamics and technology. Winning the 'Concept Car of the Year' validates our design intuition as we take our premium line-up to the next level of sophistication in styling and technological prowess."
To learn more visit : http://worldwide.hyundai.com/WW/Experience/ConceptCar/2013/HCD-14/index.html