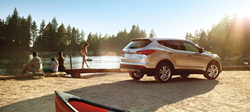 "The award-winning Santa Fe has been a success story for Hyundai in Australia since its launch in 2012, and the upgraded version for 2015 should help maintain that strong sales performance
Tulsa, OK (PRWEB) September 29, 2014
The 2015 Hyundai Santa Fe SUV hit the showroom last month and onlookers were nothing short of awed. The new 2015 model displayed various external updates and all-new specifications, along with a few cool technological additions.
The 2015 Hyundai Santa Fe includes ventilated, leather front seats and a panoramic sunroof, which conveniently functions even when the vehicle is turned off. The Santa Fe also includes an advanced safety equipment upgrade, which includes lane-departure warning and an automatic parking functionality.
In addition, the Santa Fe is equipped with an automatic tailgate, operated by a sensor in the proximity key. Also included is the Smart Parking Assist System, which aids in steering while reversing, as well as a Lane Departure Warning System, designed to warn drivers when the vehicle is leaving its present lane.
Externally, the Santa Fe aesthetic is as exciting as it is distinctive, exemplified by the darker chrome grille that now sits across the range. The vehicle contains four-cylinder drivetrain options, though dimensions and the kerb weights have remained unchanged. Hyundai customers now have a choice between the 2.4-litre petrol engine or the 2.2-litre turbo-diesel.
"The award-winning Santa Fe has been a success story for Hyundai in Australia since its launch in 2012, and the upgraded version for 2015 should help maintain that strong sales performance," said Hyundai Motor Company Australia director of marketing, Oliver Mann.
"We're proud of the vehicle's refinement, practicality, performance and value."