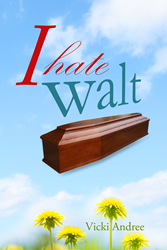 Can God use hate for good?
Denver, Colorado (PRWEB) March 10, 2015
'I Hate Walt', by Vicki Andree, entertains readers by enabling them to hate Walt along with the heroine. Hating seems so wrong in a Christian world, but if the reader is honest, hate flourishes all around us every day. Some people are simply impossible to love. Walt invites condemnation when he openly disrespects anyone near him. The reader finds herself cringing as Walt, a man with authority, drops all the social graces to belittle his employees. He reigns as the boss, but is regarded as the enemy to those around him. Scripture tells Christians to love their enemies. Scripture also says "in all things God works for the good of those who love Him" (Romans 8:28). Can God use hate for good?
'I Hate Walt' is the inspirational story of Mary Lou Stots, a young woman who works for Walt Pederson. Walt is a modern-day Scrooge who has no respect for any other human being, and less than no respect for women. Even though Mary Lou is the top salesperson in his business, Walt mocks her and humiliates her any way he can. Walt dies in a tragic accident and it seems an answer to her prayers. In fact, she remembers that at one time she actually prayed that he would die.
Meanwhile, Mary Lou's love life is in the pits. Her boyfriend, Denver police detective, Bobby Porter, takes her down a road of confusion and frustration. While she watches romance blossom with people all around her, Bobby becomes distant. Jealousy and disappointment intensify her dissatisfaction with life.
Mary Lou attempts to accept her shortcomings and reaches out. She begins to grow spiritually. Will the strength of her newfound faith overcome her hate and anger? As more questions concerning the suspicious nature of Walt's death surface, Mary Lou's faith and ability to forgive is put to the test.
Will Mary Lou ever find happiness and true love?
About the Author
Vicki Andree and her husband, David, live in Erie, Colorado. Vicki earned her doctorate in practical theology in Biblical counseling from Master's Graduate School of Divinity, Evansville, Indiana. Other books by Vicki Andree are: 'On Our Own in Jerusalem's Old City,' 'Lyza's Story,' 'The Legacy,' 'Leesa's Story,' and 'The Miracle of You.' Vicki continues to write Christian inspirational books, both fiction and nonfiction. She speaks at all types of events to educate, motivate, and elevate Christian women everywhere. You can find more information about her books on her website at http://www.vickiandreebooks.com .
For more information call Vicki Andree at (303) 665-5088 or e-mail her at vrandree(AT)gmail.com.
Order 'I Hate Walt' through eBookIt.com.
About eBookIt.com
Since 2010, eBookIt.com (based in Sudbury, Massachusetts) has helped thousands of authors and publishers get their books converted to ebook format, and distributed to all the major ebook retailers, including Amazon.com, Barnesandnoble.com, Apple iBookstore, Kobo, Sony Readerstore, Ingram Digital, and Google eBookstore.
##