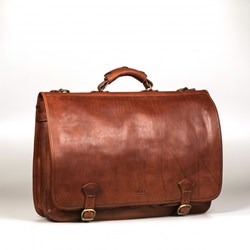 The Cartellone Indy Italian Leather Bag for laptop is hand made in Florence, Italy by I Medici. It is unmatched with power and ability to with stand scratches. The bag can hold up to 17 inches in laptop screens.
Los Angeles, CA (PRWEB) December 19, 2013
Medici is a famous brand of Italian leather bags and briefcases that have been made in Florence for more than 50 years. The company uses a traditional workmanship method of tanning the leather with vegetable ink and then letting time take its course to naturally transform the raw hide into its final state.
The Medici line combines comfort and look, fashion and tradition, uniqueness and versatility that have been passed on from father to son. The current bestseller, unrivalled for its features and stylish appearance, is the I Medici Cartellone Indy Italian Leather Briefcase for men. The 17.7 x 12 x 4.3 bag snugly holds your laptop, cell phone and other business essentials. It's also available in 16 x 10.5 x 5.5 size.
GotBriefCases.com founder and CEO, Vahran Tovmasyan, said, "We're proud to be able to make the superb I Medici leather line available to our customers. Its quality has been proven for decades and is in high demand. You can't find any better Italian leather briefcases for men and high-end messenger bags."
Tovmasyan launched GotBriefCases.com in 2009 at a time when he had no prior experience in ecommerce and didn't even speak English. A friend gave him the idea and helped create the website. Tovmasyan rolled up his sleeves, learned English and began contacting manufacturers.
Today, the online retailer carries more than 50 brands and over 5,000 products in a multitude of different colors. Brands include household names such as Samsonite, Hartmann Luggage, Zero Halliburton's business collections, TravelPro Luggage, Kenneth Cole bags and Jack Georges.
GotBriefCases.com appeals to a wide audience including professionals such as attorneys, CPAs, businessmen and women, and teachers, as well as travelers and students.
What differentiates Got Briefcases from other luggage websites?
Tovmasyan said, "We are proud of the fact that we deliver premier customer service and very fast shipping times for I Medici leather, and other Italian leather briefcases for men as well as numerous high-end messenger bags. We are the top-rated seller on eBay with almost 2,300 positive reviews and 98 percent positive feedback on Amazon. We are delighted to now provide the same high level of service to our gotbriefcases.com customers and especially at very affordable prices."
To find out more about the I Medici line and Got BriefCases' wide array of products including leather briefcases, laptop cases, computer bags, high-end messenger bags and backpacks, visit their website at http://www.gotbriefcases.com