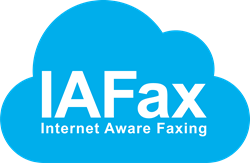 Portland, OR (PRWEB) January 27, 2016
IAFax, Inc., a leading provider of HTTPS-based managed Fax Communication Services for small and medium businesses (SMBs) to Enterprise and Fax Providers, announced today at ITEXPO in Fort Lauderdale, FL, the availability of its new Fax Retry Profiles, which uses adaptive quality routing. Early adoption has shown that IAFax raises the bar for Fax Communications via cloud-based connections offering business customers an exceptional service level of quality and reliability.
With analytical information provided by the premise fax server, IAFax dynamically adapts and ensures that the highest quality path is always selected for end-to-end fax communications. Additional aspects IAFax incorporates for quality include advanced fax analytics along with real-time FaxScope Capture and Diagnostic technology.
"Everybody knows that real-time fax services that traverse the Internet have not lived up to expectations in terms of quality of service. It's not apples to apples. Just because voice works over the Internet with SIP or over specific VoIP carrier routes doesn't mean that fax will," said Quentin J. Dible, VP of Operations at IAFax. "We are pleased that our customers have validated the performance of our HTTPS-based fax communication service platform and measured its ability to consistently deliver fax communication services for their business with higher quality and increased reliability than previously possible. Business fax customers are not limited by their Internet connection, nor their often dedicated and only VoIP route. With IAFax, customers can make use of their existing broadband network for real-time fax communications without worrying about high and often intermittent fax failures."
Results have shown that customers are achieving results that are just unheard of in today's communication shift to Internet and VoIP based faxing connections. IAFax is able to show customer's results that they expect from back in the days dedicated TDM telephony lines connected to dedicated fax boards and/or fax modems. This coupled with IAFax's new Fax Retry Profiles make sure subsequent retries are placed on the highest quality path available at the time they were made, increasing overall availability and quality of experience.
"Making the Internet reliable for Fax Communications is not just about using SIP, T.38 or G.711, but how you implement the service end-to-end, especially beginning at the customer premise with HTTPS," said Mike Oliszewski, CTO of IAFax. "The Internet was initially commercialized for Email, Web and other non real-time services. As real-time communications such as fax have migrated to the Internet, many have struggled to make it a highly reliable and dependable service end-to-end."
IAFax, which sells its fax communication services through FaxBack, is excited to have X5 Communications, Verizon, Level3 and CenturyLink along with AudioCodes as partners and carriers in its fax communication service platform.
IAFax takes complete responsibility for your business fax communications. They proactively monitor your premise fax server's Internet connection to IAFax around the clock to ensure a worry-free experience. With their extensive fax knowledge built up from working with many providers and large scale fax systems, customers can rest assured that our innovative service provides outstanding reliability and is available whenever and wherever you need it.
About IAFax
IAFax is a cloud hosted fax service provider that specializes in using HTTPS connections to provide real-time reliable, secure, easy and simple fax connections for small business, enterprise, and provider fax solutions. IAFax has been built specifically for dedicated fax connections from the ground up and into the cloud. We are not a VoIP Provider that supports faxing, but a dedicated provider for fax and only fax. Using quality carriers on the backend, IAFax ensures total transparency without any black box surprises. We offer your business the best faxing connections possible. We use secure HTTPS to bridge the gap between your business fax server and our dedicated fax cloud giving you security and fulfilling your compliance requirements such as HIPAA. With an emphasis on customer support, IAFax makes sure your mission critical fax communications are online, sending and receiving.