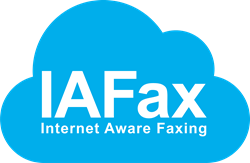 Portland, OR (PRWEB) October 07, 2015
Announcing at ITEXPO West 2015 in Anaheim, CA, a new generation of Fax Service provider, IAFax. IAFax is a new Internet aware fax service provider that is fully focused on trunk connectivity for business fax servers. Business fax servers utilize fully real-time HTTPS communication via cloud fax connections through IAFax's top tier carriers including Verizon, Level3 and X5.
The business fax server connects to IAFax's fax cloud via real-time HTTPS connections. There is no storage, even temporarily, of the fax image through the sending process. This is an extremely important aspect for compliance regulations such as HIPAA. IAFax works identical to typical SIP Trunks but removes the Internet and any T.38 related issues that can impact a fax transmission due to the business's connection to the Internet. IAFax has also invested a lot on working with downstream top tier carriers to focus 100% on fax transmissions giving business customers the most reliable, secure and fastest fax connections possible.
No voice, fax only – unlike a lot of voice providers who support fax, IAFax provides all the same benefits plus a lot more while focusing solely on fax. This allows IAFax to work extensively with their backend and top-tier carriers like Verizon and Level3 to get the best communication and routes possible for fax.

Real-time HTTPS fax connections to IAFax's cloud
Security and compliance essential for medical, government and legal business verticals
Worked with X5, Verizon and Level3 to create the best fax-only communication fax network
Connect premise-based fax server via Internet connections, WiFi, Satellite, or Cellular
Cloud-based IAFax HTTPS Connections can coexist with local SIP T.38 as needed
Connection monitoring for customers allowing automatic alerts if there fax server disconnects
Fax server based retries automatically use different routes within IAFax
IAFax is being showcased during ITEXPO at FaxBack's Booth 518. For further information about IAFax visit http://www.iafax.com.
About IAFax
IAFax is a cloud hosted fax service provider that specializes in using HTTPS connections to provide real-time reliable, secure, easy and simple fax connections for small business, enterprise, and provider fax solutions. IAFax has been built specifically for dedicated fax connections from the ground up and into the cloud. We are not a VoIP Provider that supports faxing, but a dedicated provider for fax and only fax. Using quality carriers on the backend, IAFax ensures total transparency without any black box surprises. We offer your business the best faxing connections possible. We use secure HTTPS to bridge the gap between your business fax server and our dedicated fax cloud giving you security and fulfilling your compliance requirements such as HIPAA. With an emphasis on customer support, IAFax makes sure your mission critical fax communications are online, sending and receiving.