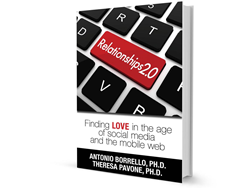 Relationships 2.0 is for people who believe in second chances.
Bloomfield Hills, MI (PRWEB) January 12, 2015
It may sound strange, unlikely or even absurd – but it's true; one of the nation's most trusted relationship experts has teamed up with his ex-wife to write about finding lifelong love.
What may sound even stranger is the admission that Dr. Antonio Borrello and Dr. Theresa Pavone are more qualified than anyone else to write such a game-changing resource; having taken their own relationship full circle, through divorce and head-first into the exciting yet intimidating world of digital dating.
'Relationships 2.0: Finding Love in the Age of Social Media and the Mobile Web' provides step-by-step guidance on finding "the one" at a time when 90% of introductions take place digitally. The bottom line: while their own marriage didn't work out, Drs. Borrello and Pavone are now working tirelessly to ensure that others don't meet the same fate.
Synopsis:
As a psychologist and relationship therapist for the past 15 years, Dr. Antonio Borrello has worked with thousands of people to improve and heal their most important relationships. His scientific background and passion for helping people led Antonio to become a recognized dating and relationship expert and inspired him to begin writing his first book. But then, Antonio had a problem – he found himself on the divorce register.
Antonio was forced to re-evaluate every aspect of his personal life and professional practice. After all, he would soon be a "divorced-marriage-therapist" with a huge credibility issue. And, like most divorcing couples with children, Antonio and his ex-wife Dr. Theresa Pavone struggled through a difficult adjustment period. Married or not, they were both determined to redefine their relationship and successfully uncouple. Through patience, understanding, hard work and a little bit of luck, Antonio and Theresa were able to develop a new co-parenting friendship that is mutually rewarding and beneficial to their children.
Two years after they both ventured into the exhilarating yet frustrating world of singledom, forced to now meet people via social media and online technology that didn't exist when they first met, Antonio and Theresa are back at the same dining table to fuse their practical and professional experiences in this book.
Meeting people, communicating with them and dating them has changed radically in the past decade. Relationships 2.0 is the perfect guide to mastering Tinder and mobile dating, online dating, and making the bold transition from avatar to real-world date. It's the perfect book for people who believe in second chances - 2.0
"I had a reputation as the therapist that will help save your marriage, and then suddenly I found myself filling out my own divorce papers. I was facing a huge credibility issue," admits Dr. Borrello. "Experiencing the full circle of dating, marriage, divorce and dating again makes me more qualified than ever before to help others who are struggling with their relationships."
The duo has launched a Kickstarter campaign to raise funds and make the book available to anyone who can benefit from it regardless of their financial situation. That is why they are offering the book for free to supporters who share their campaign. A range of exciting and exclusive rewards are available to backers, with interested parties urged to pledge while quantities remain.
For more information on the book, its authors and their campaign, visit the [Relationships 2.0 Kickstarter page or the official website for Relationships 2.0 at http://www.relationships20.com.