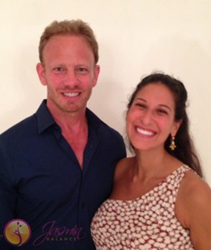 (PRWEB) August 12, 2014
American actor Ian Ziering, popular for his role as Steve Sanders in the television show "Beverly Hills, 90210" and, most recently, for his appearance as Finley "Fin" Shepard in the TV Movie "Sharknado," opens up to celebrity psychotherapist Jasmin Terrany, LMHC in an intimate video interview session. The actor discussing his childhood struggles, his relationship with his parents, divorce, marriage, parenthood, acting career path, and many other personal aspects of his life that he has never shared publically before.
In this heart-to-heart conversation, Ziering explains how he turned his weaknesses into strengths, talks about the sources of his motivation, explains the ups and downs of his career path, opens up about his turbulent love life, shares valuable lessons from his first marriage, and gets personal about his wife, children, and current life.
Ziering reveals the story of how he got his role as Steve Sanders in "Beverly Hills 90210" and talks about his ten years of super stardom with a show that has become a global phenomenon. Ziering also converses about the fascinating success of the original "Sharknado," which premiered on July 11, 2013, attracting nearly 1.5 million viewers and generating as many as 5,000 tweets per minute, and announces the movie's sequel, which premiered at the end of July of this year, generating 3.9 million viewers and one billion Twitter impressions.
The interview is available for viewing at http://jasminbalance.com/jasmin-terrany-interview-ian-ziering/.
###
Jasmin Terrany, LMHC, founder and owner of JasminBalance Life Therapy, is a Columbia University trained psychotherapist who invented Life TherapyTM, a combination of Psychotherapy and Life Coaching with Mindfulness and Meditation. Her specialties include increasing self-love and confidence, building fulfilling relationships, releasing stress, anxiety and fear, improving body image, and living your life's purpose. For more information visit, http://www.jasminbalance.com.