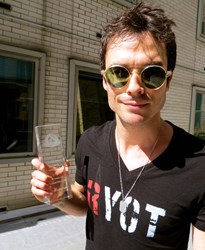 Thank you guys so much. This is an incredible honor, and I will try to keep it up. ~ Ian Somerhalder
Santa Monica, CA (PRWEB) September 23, 2013
Actor and Activist Ian Somerhalder (Vampire Diaries) was honored with a Golden Goody Award (aka Oscar for social good) by the Goody Awards yesterday at the Social Good Summit in New York City. Ian spoke on a panel with RYOT News about the power of digital and actionable news, and his loyal fans nominated him for this award thru Twitter. Along with this top award, Ian and his Ian Somerhalder Foundation (ISF) have won #HeroGoody #EcoGoody and #TeamGoody of the Month twice based on Twitter votes from fans in over 20 countries.
From the 92Y rooftop in Manhattan, Ian accepted this social good award in this video interview by thanking his fans, "Thank you guys so much. This is an incredible honor, and I will try to keep it up." When asked about the power of youth and social media, Ian added, "Ultimately using social media as the tool,… that empowerment leads to activation, it leads to collaboration, and ultimately it will lead to quantifiable change."
The Goody Awards has been looking for the perfect time to present this top award to Ian, and the Social Good Summit seemed like a perfect match. A loyal fan nominated Ian by writing, "I nominate Ian for a Golden Goody Award both as an actor and an inspiring individual who is making this world a better place, through his foundation, the Ian Somerhalder Foundation (ISF)." And his fan votes on Twitter are so authentic, humbling and compassionate:
I nominate @Iansomerhalder for a #HeroGoody #GoodyAwards for being our planet's hero as well as ours, thank you Ian, we love you via @ISF_UNIF_CH
I nominate @iansomerhalder for a #HeroGoody #GoodyAwards for creating ISF to inspire young people 2 get involved in environmental activism via @SmileAlwaysIan
I nominate @iansomerhalder for a #EcoGoody #GoodyAwards for inspiring people to care about our environment and animals. And ISF via @AllHailIanS
I nominate @is_foundation for a #TeamGoody #GoodyAwards for its activity, solidarity, respect for its teams. #ISFCommCrew #ISFfamily via @ISF_Breizh
Ian's passions are green energy, environmental conservation and animal rights. Through his foundation, he encourages youth to get involved and take positive action. A native from New Orleans, Ian Somerhalder started ISF after the BP Oil Spill to empower youth to do green projects. ISF is a non-profit organization promoting animal rights and environmental causes. Along with ISF, Ian Somerhalder was one of the founders of Go Green Mobile Power, a sustainable portable energy company.
Some of the inspirational ISF projects for youth have included The Green Your Thirst Campaign and Plastic Straws Can Suck it Campaign. The Green Thirst Campaign included a ban on the sales of plastic bottles on campuses nationally, and The Plastic Straws Can Suck it Campaign helped ban plastic straws around beaches and lakes.
Goody Awards Founder Liz H Kelly also presented Ian with one of the first Hero Goody necklaces that support Free The Children. This necklace is part of a new Tag Good program that the Goody Awards will officially launch at We Day in Minnesota on October 8, 2013.
Because the Goody Awards' mission is to inspire positive change by recognizing good in the world, it was an honor to present this top award to such a force for good. Previous winners of the Golden Goody Award have included Louie Psihoyos, Director of Academy Award Winning Documentary "The Cove", Anna Cummins, Founder of 5 Gyres, Lucy Webb, Women In Film in Park City Chairman and her committee at the Sundance Film Festival, and Nobel Peace Prize Nominee Sir Nicholas Winton.
About Goody Awards
Goody Awards™ facilitates Social Good Awards via social media, special awards and cause marketing campaigns, similar to the million$ advertising campaigns that we managed while working for Fox Interactive Media/MySpace. We're using our marketing skills to reinforce good through multiple recognition channels. Anyone can tweet a Goody Award nomination anytime to tag good and compete for Goody Awards of the Month and Year online. The Goody Awards also specializes in developing cause marketing campaigns tied to special awards to bring attention to important causes and social good leaders. Follow @GoodyAwards and http://goodyawards.com