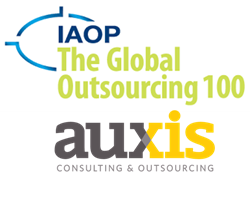 We are honored by this listing and humbled to be in such great company with other leaders in these sectors
Fort Lauderdale, FL (PRWEB) July 13, 2016
Auxis, a leading management consulting and outsourcing firm providing both IT and business process services, is pleased to announce that it has been named by IAOP (International Association of Outsourcing Professionals) as a "Top Company" for two categories—Customer References and Overall Revenue As Rising Star.
"We are honored by this listing and humbled to be in such great company with other leaders in these sectors," said Raul Vega, Auxis CEO. "IAOP is a leading, standard-setting global organization that's well known as an advocate for the outsourcing profession. We are especially proud of the fact we have been honored in the category of Customer References, and we are pleased that our commitment to excellence has being recognized by those companies that we serve," he added.
The Global Outsourcing 100, the annual listing of the world's best outsourcing service providers, is in its twelfth year. The Top Company honors and other lists can be viewed in full here.
This year's IAOP evaluation team included these respected industry names:

Michael F. Corbett, Chairman, IAOP, co-judging chair
Debi Hamill, CEO, IAOP, co-judging chair
Daniel Beimborn, Professor, Frankfurt School of Finance & Management
Teresa Harris, COP, Global Supplier Relationship Manager, GE
William Hefley, Ph.D., CDP, COP, Clinical Professor, University of Texas
Mary D. Lewis, Sourcing Manager II, Supply Chain Management, Sprint
Brian Nicholson, Professor of Information Systems, Manchester Business School
Cheryl Seely, COP, Manager, Thomson Reuters
Paul Quaglia, COP, CIO, Scientific Games
Scott Singer, Managing Director, GBS, Rio Tinto
All lists have been released as part of a special advertising feature on outsourcing released in the June edition of FORTUNE Magazine.
About Auxis:
Based in Ft. Lauderdale, FL, Auxis is a performance-driven consulting and outsourcing firm that helps global organizations and their teams improve processes, increase productivity and optimize costs. The Auxis team, which is 90% bilingual/bicultural and has over several decades of multinational experience, is comprised of former industry professionals who represent a "real-world" approach with a focus on flexibility, customization and bottom-line results. Auxis works with a wide range of Fortune 1000 organizations on global business services, and operates a rapidly-growing state-of-the-art, nearshore outsourcing operation in Costa Rica. For additional information, visit: http://www.auxis.com.
About IAOP:
With a global community of more than 120,000 members and affiliates worldwide, IAOP® is the leading global association aimed at improving outsourcing outcomes by bringing together customers, providers and advisors in a collaborative, knowledge-based environment that promotes professional development, recognition, certification and excellence. For more information on The Global Outsourcing 100 and World's Best Outsourcing Advisors, visit here.
###