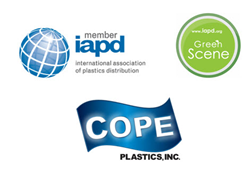 Alton, IL (PRWEB) October 07, 2015
Cope Plastics, Inc. recently attended the 59th Annual International Association of Plastics Distribution Convention & Plastics Showcase in San Diego, CA. During the convention, Cope was recognized for their efforts in recycling, education, marketing and more.
IAPD awarded Cope with the Silver Environmental Excellence Award. Cope has expanded its recycling program to include 36 different grades of plastic, which make up nearly 90 percent of the material distributed through or consumed by the company. The environmental awards were established by the IAPD Environmental Committee in 2008 as a way to celebrate the environmentally responsible practices of IAPD member companies. New for 2015 was a completely revised application process, which lists environmental best practices and assigns a point value to each initiative. The application covers topics such as recycling, conservation, community outreach, employee engagement and more.
Cope was also awarded the Gold Education Circle of Champions Award during this year's expo. The IAPD Education Committee established the Education Circle of Champions in 2009 to acknowledge the innovative and exemplary educational initiatives by member firms. It is a special recognition for companies that emphasize continuing plastics education within their organization through the use of IAPD's training and educational resources.
Cope proudly accepted the Silver Marketing Excellence Award for actively promoting plastics, its business, its environmental achievements and its ties to IAPD. In the past year they redesigned their website to be mobile-responsive, as well as added an e-commerce area to the site. They partnered with their vendors on robust marketing campaigns. The company contributes educational articles to industry magazines, released a NetWorth television spot shown on stations nationwide, is engaged in social and environmentally responsible activities, is active on social media, issues press releases and engages in many other marketing activities.
Additionally, as a finalist in the IAPD Plastics Application Design Competition, Cope's Karen Schairer presented her application to a Design Review Board in San Diego this September. This competition presents a unique opportunity for companies, individuals and universities to showcase their innovative use of plastics in different applications and tell their stories on a scale that may not otherwise be available. Cope's design demonstrated an application for the food processing industry that enhanced employee safety and job efficiency for a customer. This design won Cope 3rd place in the competition.
Cope Plastics is the premier distributor and fabricator of plastic sheet, rod and tube across the Midwest delivering solutions to our valued customers since 1946. The company is proud to be a certified Women Owned Business by the NWBOC since 2012. Visit us at http://www.copeplastics.com.
The International Association of Plastics Distribution (IAPD), established in 1956, brings together distributors, fabricators, manufacturers, manufacturers' representatives, recyclers and service providers in an environment which encourages a free flow of ideas and information that help members build their businesses. Visit us at http://www.iapd.org.