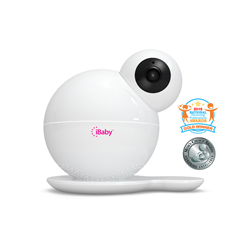 iBaby Monitor M6 is #1 Top Seller on Apple.com in Connected Home Category with stellar brand recognition in Wi-Fi Baby Digital Video Monitoring
San Francisco, CA (PRWEB) May 18, 2015
In early March 2015, iBaby Labs received Gold Award Seal on iBaby Monitor M6 by NAPPA which is one of the most recognized award programs in the US. Parents have trusted this program for over 25 years to find the best children's products and parenting resources. The program appoints a panel of independent judges and parents to evaluate the products submitted.
Later, in May 2015, the monitor received Silver Mom's Choice Award in Media, Electronics & Accessories category. The Mom's Choice Awards® is a program that evaluates and serves as a recognized benchmark for products and services made for children and families. The panel of judges includes parents, scientists and various experts, which ensures an objective evaluation. Once the evaluating process is completed, all samples are donated to schools, libraries, charities and hospitals.
iBaby Monitor M6 was released on September 26, 2014 online at Apple Store and has since been #1 Top Seller on Apple Online Connected Home Category. Following its release, the monitor has been recognized by important media groups including Bloomberg Businessweek, Fox News, Examiner, Baby Center, Pregnancy & Newborn Magazine, Cool Mom Tech, Digital Mom Blog and GeekDad leading to receive an instantaneous acclaim.
iBaby Monitor M6 boasts an HD camera with 360° pan and ability of a 110° tilt. Equipped with a free mobile app and support for all Apple and Android devices, the monitor installs in a simple 60 second step. The app comes with the ability to share videos with unlimited number of users as well as video and audio recording features. Easily connect your monitor with iTunes or music library to play any lullaby your baby loves, record your voice and replay it in seconds. The integrated social media platform currently hosts a forum for parents.
Elnaz Sarraf, Vice President, acknowledges our news group on company's future developments, " we are proud to be the best brand in baby monitor and connected home category. We are expanding our products to fit every parent's needs. iBaby Labs is planning to add more features soon including integration with AppleWatch. Now every parent can easily monitor their baby with just a tap on their AppleWatch or Smart Phone."
About the company:
iBaby Labs, Inc. is an innovator of family care and wellness products based in San Jose, CA. Founded in 2011, iBaby Labs has developed, designed and manufactured wireless baby monitors of several models. iBaby Monitor M6 is the latest creation of the company.
Find out more about the company and their products on their website at https://ibabylabs.com/
iBaby Labs, Inc
780 Montague Expressway
Suite 601
San Jose, CA 95131
1-650-396-2436