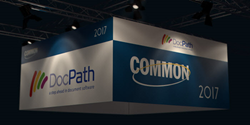 Boulder SuiteTM is a robust Output Management solution which provides an effective and efficient migration path for projects created with InfoPrint Designer,
Suwanee, GA (PRWEB) June 20, 2017
DocPath was one of the IT exhibitors at last month's COMMON 2017 Annual Meeting and Exposition, the world's premier yearly gathering of IBM® Power SystemsTM professionals, held in Orlando (FL). This year's COMMON event presented an exceptional opportunity for DocPath to showcase its enhanced version of Boulder SuiteTM, an Output Management document software solution designed to offer an effortless and secure migration path from IBM's InfoPrint® Designer to DocPath® technology.
The annual COMMON gathering is known as the largest Power Systems event of its kind and it is currently considered the gateway to the latest trends and innovations in IBM® and related platforms, for IBM® users, industry professionals and solution providers. In line with COMMON's mission and objectives, their annual events offer a wide program of conferences, workshops and first-rate presentations by industry-renowned names and the most innovative IT companies.
Seamless Migration IBM® InfoPrint® Designer to Advanced Document Communications
IBM® InfoPrint® Designer constitutes a practical tool which helps companies enhance spooled file output on IBM i environments. However, since the first release of the product, business and user needs have evolved importantly and end-users are looking for more modern document software solutions to meet those new requirements and keep pace with emerging technology.
In line with that approach, IBM® Power SystemsTM professionals have discovered first-hand at COMMON 2017 how they can rapidly and securely migrate from IBM® InfoPrint® Designer projects with DocPath's Boulder SuiteTM solution. Boulder SuiteTM is a robust Output Management solution which provides an effective and efficient migration path for projects created with InfoPrint Designer, to an advanced technology that simplifies and enhances the overall document process on IBM i platforms.
DocPath's document software Boulder SuiteTM not only migrates, but also puts IBM® InfoPrint® Designer on a growth path, by adding functionality through advanced design and operation features and improved support services. Among other options, Boulder Suite users modify their documents via an appealing, multi-language interface, easily set communications between their Windows and IBM i environments and generate documents in a wide range of formats and across a variety of print and distribution channels. Two versions are available of DocPath's document software: Boulder Suite Pro and Advanced, to meet specific corporate output needs.
See also IBM's web page: Migrating from IBM InfoPrint Designer applications - Moving to advanced document communications with DocPath Boulder Suite
About COMMON
COMMON is the world's largest professional association of IBM® technology users. Among other initiatives, COMMON delivers and promotes independent education, industry-recognized certification and networking among users, IBM® and related third-party systems providers.
The COMMON Annual Meeting and Exposition is a yearly held event organized by COMMON and aimed at allowing IBM® users to network with other IT professionals, keep current on the latest technology topics, receive in-class education and attend product presentations from IBM® and others, among a wide variety of actions. COMMON 2017 was a great success, with more workshops and lab sessions than ever and more than 50 IT exhibitors showcasing their innovations.
For more information, visit: common.org
About DocPath
DocPath is a leading business document software manufacturer that provides its world-wide customers the technology that allows them to complement their ERP and implement sophisticated Customer Communications Management and Document Output Management systems, as well as advanced document spooling software. Created in 1992, DocPath's Solutions are found in companies scattered across the globe. Its international clients include prestigious banks and first class corporations, which are aided by DocPath's Solutions as the complicated and critical tasks involving the design, generation and distribution of business and customer documents are significantly simplified. DocPath maintains a strong commitment to R&D&i, an area that receives a good amount of its revenue, and in which lies the key to the company's success.
For more information, visit: http://www.docpath.com.
Disclaimer: DocPath trademarks are the property of DocPath Corp. IBM trademarks are the property of IBM Corporation. Other company, product and service names may be trademarks or service marks of others.