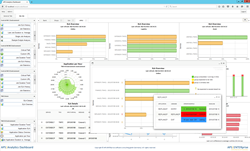 Mainframes still power batch processing at many companies
Köln, New York, Zurich (PRWEB) August 18, 2015
APS ENTERprise Software Inc. (apsware.com) introduces TWSemon v. 4.5.1, which extends monitoring capabilities of the IBM Workload Automation Solution (formerly known as TWS Tivoli Workload Scheduler) to improve service delivery while reducing costs for enterprises.
The intelligence of TWSemon allows companies to identify and resolve problems during the execution of their mission critical applications. TWSemon extends monitoring and significantly reduces the amount of out of line conditions sent to mainframe operations console screens.
One customer at a N.A., Insurance Co., likened it to "reducing all the noise" by eliminating the volumes of unnecessary alerts. Another user at one of Europe's largest Banks, which runs over 10 million jobs a day in a 24X7 production operation – commented: "we rely on TWSemon to improve productivity on a daily basis and it hasn't missed a beat."
New features include SLA alerts for jobs, applications, & groups of applications so IT Management can filter its monitoring to precisely track the performance of those applications that have the most impact on the organization's bottom line.
At its core, the solution consists of performance optimized assembler code and mainframe ISPF dialog consoles (pretty boring by today's standards), but as any grey haired IT person will tell you, rock solid code written in Assembler still powers many of the world's major Operating Systems and Applications on mainframes - which, by the way, still exist.
To compliment this, the latest release includes dashboards and graphics, so Executives and Line Managers can have access to their SLA's in real-time from a modern browser based interface.
The solution now bridges the gap from IT Expert Operator to Board Room Executives who need to be immediately "in the know."
TWSemon is a unique solution that supports the IBM Workload Automation for z/OS & (E2E) end-to-end datacenters that scales from small to very large mainframe data centers.
To learn more about TWSemon, visit: http://www.apsware.com/tws-solutions/twsemon/
YouTube Presentation: http://www.apsware.com/downloads/product_info/twsemon-presentation-z9j7krhinmy