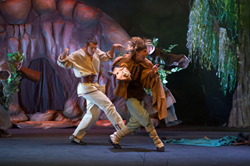 Travelers, Ambassadors of Peace
(PRWEB) July 25, 2017
Government leaders, representatives from international organizations, cultural arts experts, literary masters and social media influencers, will convene in Tangier, Morocco on November 2017 (9-12) to discuss the universal benefits of world travel inspired by the vision of Ibn Battuta.
An initiative by the civil society, the association's festival theme 'Travelers, the Ambassadors of Peace' underlines the need to promote the culture of traveling as an effective means to carry out peace, tolerance, universal values and intercultural understanding. A person's travel experience increases mutual understanding amongst people living in diverse cultural backgrounds.
Mohamed Dekkak, the Moroccan Association of Ibn Battuta's Honorary Chairman, expressed, "The International Festival of Ibn Battuta will serve as a platform for the international community to interact and exchange dialogue with utmost mutual respect and to assesstourism's potential for peace making.
The city of Tangier will welcome a large numberof foreign and domestic visitors joining the celebration. Exhibiting the flavors of participating countries based on arts and culture, the event is a great opportunity to experience the abundance and rewards of world traveling. Aziz Benami, the Association President, asserts, "Through cultural events like this, we intend to continue to advocate the culture of traveling aligned with the values inspired by Ibn Battuta."
ABOUT THE INTERNATIONAL FESTIVAL OF IBN BATTUTA
The 2nd edition of the International Festival of Ibn Battuta, an official event of the Moroccan Association of Ibn Battuta will address this year's theme, 'Travelers, the Ambassadors of Peace.' The event features interesting social events, notable speakers in the fields of travel, culture, and arts. Furthermore, it also provides an opportunity for travel and cultural arts community to share experiences and practices, converge and network among local and international industry partners.
The festival honors Ibn Battuta's legacy and relives the journey he undertook seven centuries ago.
PRESS CONTACT:
Email - media(at)ibnbattuta.ma
Website - https://ibnbattuta.ma/