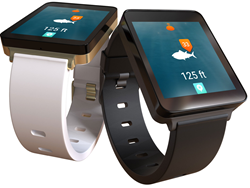 "The iBobber Smartwatch app cements ReelSonar as the leader in castable fishfinders, and an innovator in wearable technology," said Alex Lebedev, ReelSonar founder and CEO
Seattle, WA (PRWEB) March 04, 2015
Introducing the iBobber™ Smartwatch Fishfinder App— the first and only Smartwatch Fishfinder App. The iBobber app not only connects anglers to their phones and tablets, it now connects them to their smartwatches, enabling them to see where fish are with a simple glance at their wrist.
The innovative iBobber Smartwatch App features a 1-Touch UI, transmitting fish size, fish depth, bottom depth, fish alarm, and GPS tags between smartwatch and phone/tablet.
Generating and transmitting this data to the smartwatch via phone/tablet is the iBobber— the castable fishfinder that transmits its sonar data to a phone/tablet using Bluetooth Smart® 4.0, and the free iBobber app. The iBobber combines the features and functionality of more expensive fishfinders with the ability to cast the fishfinder from boat or shore. With the innovative iBobber, anglers are no longer limited to finding fish only under their boats, or not at all from shore.
The iBobber MSRP is only $99.99 And this smartwatch app for Android is free with the download of the free iBobber app for Android from Google Play. Once the iBobber, phone/tablet, and smartwatch are paired, its time to find the fish!
At present, the iBobber Smartwatch App has been released for only Android Wear Watches: LG G Watch, Motorola 360, Sony SmartWatch 3, Samsung Gear Live, and Asus Zen Watch. Once the Apple smartwatch is available, the iBobber Apple version will be as well.
The iBobber Smartwatch app was developed via the strong R&D of the iBobber parent company, ReelSonar, a tech company geared toward outdoor, fishing, and hunting enthusiasts.
"The iBobber Smartwatch app cements ReelSonar as the leader in castable fishfinders, and an innovator in wearable technology that syncs with the energetic lifestyle of outdoor, fishing, and hunting enthusiasts," said Alex Lebedev, ReelSonar founder and CEO.
For more information, please visit iBobber at ReelSonar.com, facebook.com/reelsonar, and Twitter @ReelSonar, and contact David Ross, VP CMO at david(AT)reelsonar.com, 206-349-1179.