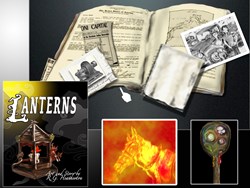 As an author and a visual artist, I'm ecstatic about the interactive and graphic capabilities available," Heatherton explains. "They offer a whole new way of pulling readers deeper into my story.
New Albany, OH (PRWEB) September 30, 2013
Interactive exploration enhances reading comprehension as readers are given insight into the backstory, characters and setting of the book. R.G. Heatherton has created an interactive novel targeted to young readers in grades 6 - 8 that promotes engagement with the material and aims to create deeper reading comprehension. The iPad and Kindle versions of the book include interactive exploration aimed at bringing readers deeper into this imaginative adventure.
In the book, reluctant traveler Hayden Nelson sets sail in an ancient canoe through a mystical valley. On a journey to save his father, Hayden faces the dark Horse Master in a nightmare struggle at the core of evil. A beautifully illustrated novel, Lanterns paints imaginative scenes of both struggle and self-discovery.
In a tale reminiscent of Alice's journey through the looking glass, R.G. Heatherton handcrafts a tale with emotional depth and insight, illuminating family relationships, commitment and the power of imagination.
One of the book's interactive elements allows readers to explore a turn-of-the-century Wyoming land grant. The segment provides insight into the main character's family history and the setting of the story. By exploring maps, scribbled notes and old family photos, readers gather context that deepens the reading experience.
Lanterns is self-published by R.G. Heatherton and is currently available in the IBookstore as well as via Amazon for Kindle readers.