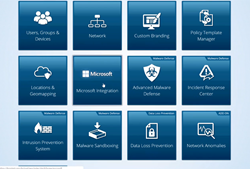 'The ability for IT administrators to have all of the tools they need to ensure secure access to the Internet is crucial. Policy layers empower IT administrators to secure users wherever they go' Paul Martini, CEO and co-founder of iboss
BOSTON (PRWEB) March 26, 2019
iboss today announced the availability of intelligent policy layers that allow IT administrators to apply layered policies to users depending on the user's group membership or location. The iboss cloud can currently apply different policies to users depending on their role or location, and policy layers advance that capability with the ability to layer additional policies that change depending on various criteria. For example, users may have varying Internet access needs as they move between branch offices. Policy layers allow additional Internet access or can restrict access depending on the user's role and location. This is also helpful in situations where country regulations mandate policies be in place, such as China, so that users are only affected when inside that country.
According to CommVault, only 12% of organizations will understand how GDPR will affect their organization. The ability to ensure security policies adapt based on a user's location is critical to meet GDPR and similar regulatory compliances.
The dynamic policies are applied by comparing the user's security group membership or organization unit. If there is a match, the policies contained within that policy layer are applied to the user. Additionally, when users are within specific IP regions the layer can be applied to dynamically change Internet security policies. Policy layers are additive and are applied to an already dynamically mapped security policy to the user to give maximum flexibility to IT administrators tasked with ensuring secure and compliant Internet access. Policy layers are delivered in the cloud and will secure user Internet access from any device and location.
"The ability for IT administrators to have all of the tools they need to ensure secure access to the Internet is crucial. Policy layers empower IT administrators to secure users wherever they go while providing the best possible end-user experience," said Paul Martini, CEO and co-founder of iboss. "We are proud to be leading the way for innovation in cloud security and will continue to push the boundaries of what is possible to ensure users are protected in a borderless world."
About iboss
iboss is a cloud security company that provides organizations and their employees secure access to the Internet on any device, from any location, in the cloud. This eliminates the need for traditional security appliances, which are ineffective at protecting a cloud-first and mobile world. Leveraging a purpose-built cloud architecture backed by over 100 patents and over 100 points of presence globally, iboss protects more than 4,000 organizations worldwide. To learn more, visit http://www.iboss.com.
Media Contacts
Chris Liva
chris.liva(at)iboss.com