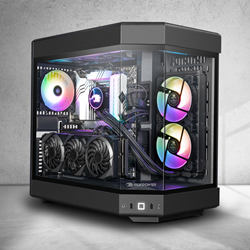 LOS ANGELES (PRWEB) April 20, 2022
iBUYPOWER, a leading manufacturer of high-performance custom gaming PCs, today announced the availability of its new Y60BB2090 system in 111 Best Buy stores across the continental United States.
Housed in the newly announced HYTE Y60, the Y60BB2090 gaming PC is designed to be the center piece of any setup. With a three-part tempered glass front and side panel design on the case users will experience an unobstructed view of their system from any angle. Providing the latest in gaming technology, the Y60BB2090 boasts a vertically mounted NVIDIA RTX™ 3070Ti graphics card, Intel® Core™ i7 12700KF CPU, and Z690 chipset motherboard.
The Y60BB2090 comes equipped with a 240 mm addressable RGB(ARGB) all-in-one (AIO) liquid cooler mounted to the side, one ARGB 120 mm fan at the rear for exhaust and two additional 120 mm non-RGB fans in the floor to keep components running cool during the most taxing hours of gameplay. In addition, the Y60BB2090 features 16GB (2 x 8GB) 3200MHz RGB DDR4 Memory, 1TB NVMe M.2 SSD, and 750W 80 Plus Gold power supply (PSU).
Pricing and Availability
The iBUYPOWER Y60BB2090 is available for purchase, immediately, in select Best Buy stores across the continental United States and online at BestBuy.com for a starting MSRP of $2,049.99.
Webpages
To learn more about the iBUYPOWER Y60BB2090, please visit: https://bit.ly/3jHbac6
About iBUYPOWER
Since 1999, iBUYPOWER has embodied its core beliefs of Perseverance, Unity, Strength, and Ambition, to deliver on its promise to build the best gaming systems for the most discerning gamers. Even in a time when PCs were not as ubiquitous as they are today, we fueled the passion for gaming by giving our customers the highest quality in custom built computers. Our systems have since become the backbone for professional gamers, game developers, LAN centers, major esports tournaments, collegiate esports, and everyday consumers. iBUYPOWER has worked intimately with brands such as Intel, NVIDIA, AMD, Microsoft, WD, ASUS, Bethesda, MLG and many more. Superior performance, reliability, cutting edge technology and timely production make iBUYPOWER the authority in PC gaming.