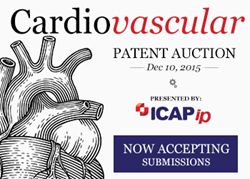 ICAP's Cardiovascular patent auction is a long-awaited opportunity for operating medical companies, who benefit from transactions intermediated at arm's length with surgeons and other inventors.
New York, NY (PRWEB) July 16, 2015
ICAP Patent Brokerage is pleased to announce its first-ever medical sector patent auction in the cardiovascular, interventional cardiology, and structural heart disease spaces, to be held December 10, 2015. Patent portfolios for these life-saving surgical technologies will be posted on the December Cardiovascular IP Auction page as they become available to the broader market. ICAP will increase its cardiovascular inventory from additional sellers in the coming days and weeks, and is actively seeking patent portfolios for inclusion in the auction.
"ICAP's Cardiovascular patent auction is a long-awaited opportunity for operating medical companies, who benefit from transactions intermediated at arm's length through ICAP with surgeons and other inventors," said Dean Becker, CEO of ICAP Patent Brokerage. "Medical patent markets are often overlooked by the traditional patent broker community which is more active in other industries."
The Cardiovascular Patent Auction will help medical companies properly reward inventors of pioneering technologies that improve the standard of healthcare for all patients. Placing new technologies, patents and solutions from surgeons and other key innovators into hands of operating medical companies can help increase the quality and reach of medicine and decrease the cost of healthcare in the market. Medical companies looking to cut costs while improving quality and access to medical devices and procedures must pursue innovation. Many will look to acquire the patents, 510(k) clearances and premarket approvals (PMAs), and related assets made available through ICAP.
The auction will be overseen by newly appointed Senior Vice President Peter Johnson, who brings over a decade of medical industry intellectual property transaction experience with many of the leading companies in the medical space. "In addition to participating during the auction, buyers will be able to extend pre-auction offers to purchase or license some or all of the patents using standard private transaction models – such as asset purchase, license, option and development agreement – more traditionally employed within the medical industry," said Mr. Johnson.
The auction will specifically cater to operating medical companies and some of the largest patent owners in interventional cardiology. Some of the leading patent owners in cardiovascular who may benefit from purchasing patents in the auction include Boston Scientific, Medtronic, Johnson & Johnson, Abbott Laboratories, St. Jude Medical, C.R. Bard, Siemens AG, Terumo Corporation, the Cook Group, Zoll Circulation, Terumo Corporation, Volcano Corporation, Stryker Corporation, Medical Components, Edwards Lifesciences, W.L. Gore & Associates, Becton Dickinson, AngioDynamics and Koninklijke Philips.
ICAP patent auctions are an established process that operating companies in other industries use to successfully acquire patents. ICAP has sold to or on behalf of many of the top Fortune 500 companies in the past, and now brings this proven model to medical.
Sellers (and their agents and brokers) interested in listing their cardiovascular-related patents or technologies in ICAP's 2015 Cardiovascular Auction may do so by contacting Peter Johnson at peter@icapip.com or (801) 828-0100, or by submitting their patents at our website. To provide buyers with a 90-day due diligence period before the auction, sellers should consign their patents with ICAP no later than Labor Day - September 7, 2015. Buyers interested in bidding during the auction or negotiating outside the auction process are also encouraged to contact Mr. Johnson.
Follow us on Twitter (@ICAP_IP) and join our LinkedIn group.
About ICAP Patent Brokerage
ICAP Patent Brokerage is the world's largest intellectual property brokerage and patent auction firm, leveraging the talents of experienced patent brokers to match buyers and sellers for the sale of patents and other intellectual property assets. With multiple transaction platforms and unparalleled industry knowledge, including experience with trademarks, brands, intellectual property licensing, and UCC sales, ICAP Patent Brokerage is the global leader in the transaction of intellectual property.
Media Contact
Sarah Saites
(312) 327-4437
Sarah(at)icapip(dot)com
###