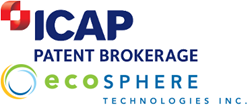 Ecosphere's patented Ozonix® technology is the most proven, patented and award winning water treatment technology available today to kill bacteria in industrial and municipal water applications without the use of biocides.
New York, NY (PRWEB) March 11, 2015
ICAP Patent Brokerage announces for license a multi-patented, revolutionary Advanced Oxidation Process (AOP) from Ecosphere Technologies, Inc. that is currently being used by Fortune 500 customers to reduce costs, increase treatment efficiencies and eliminate liquid chemicals from wastewater treatment operations around the United States.
Licensing opportunities for this IP package are available now thru ICAP Patent Brokerage.
"Ecosphere holds the dominant position in combining multiple advanced oxidation technologies and has an extensive patented portfolio of intellectual property that includes 10 approved United States patents and 11 patents pending for its Ozonix® technology," stated Dean Becker, CEO of ICAP Patent Brokerage. "Ecosphere's patented Ozonix® technology is the most proven, patented and award winning water treatment technology available today to kill bacteria in industrial and municipal water applications without the use of biocides; it kills bacteria with technology not chemicals."
Technology Description
The patented Ecosphere Ozonix® technology combines ozone, hydrodynamic cavitation, acoustic cavitation and electro-chemical oxidation into one broad-spectrum water treatment technology to oxidize and destroy organic matter, bacteria, biofilms, heavy metals, hydrocarbons and sulfides that are typically found in industrial wastewaters. Ozonix® eliminates the need for conventional liquid chemical biocides and scale-inhibitors that are typically required to control bacteria growth and scale deposition in a wide variety of wastewater treatment and disinfection applications.
Proven Results
Since 2008, Ecosphere's patented OZONIX® technology has enabled oil and gas customers to treat, recycle and reuse over 5 billion gallons of water for approximately 1,200 oil and natural gas wells in the United States, protecting $5+ billion worth of well assets, eliminating millions of gallons of chemical biocides and generating over $70 million in revenue. The Company has also successfully deployed approximately 50 OZONIX® machines to a wide variety of major hydraulic fracturing shale plays around the United States and most recently Canada.
Key Characteristics & Benefits
Chemical-Free: With Ozonix® there is no need for chemical biocides. Bacteria tests and dynamic tube blocking tests have established that water processed through Ozonix® shows complete destruction of bacteria cell walls and scale-inhibition effects.
High-Volume: A single Ozonix® system can process up to 3,300 gallons per minute - treating water to a level that is suitable for re-use.
Self-Contained: Ozonix® products are mobile, self-contained and fully transportable - they go wherever you need them, require minimal mobilization time and are self-sustaining.
Highly-Effective: Ecosphere's patented Ozonix® technology produces highly reactive bacteria killing hydroxyl radicals. Hydroxyl radicals are important to water disinfection because they have a high oxidation potential of 2.80V, which is much higher than the most common disinfectants, Ozone (2.07 V) and Chlorine (1.36 V).
Industry Proven: Ozonix® is the only patented Advanced Oxidation Process (AOP) proven to provide high-volume, chemical-free water treatment and recycling services at the frac site for oil & gas operators.
Environmentally Responsible: Ozonix® is the most energy efficient and environmentally sustainable solution for high-volume, chemical-free water management.
See the technical description of the water treatment and recycling IP sales offerings.
Awards and Accolades

2013 Oil and Gas Awards - Water Management Company of the Year Award, Midcontinent Region;
2013 Bloomberg New Energy Finance Awards - New Energy Pioneer;
2013 IHS CERAWeek - Energy Innovation Pioneer Award;
2013 American Technology Awards - "Clean Tech/Green Tech" Winner;
2013 World Technology Awards - Corporate "Environment" Category Winner;
2012 Frost & Sullivan North American Product Leadership Award in Disinfection Equipment for Shale Oil and Gas Wastewater Treatment; and
2010, 2011, 2012 Artemis "Top 50 Water Technologies" Winner
Available Licensing Opportunities
Exclusive and non-exclusive licensing opportunities are available for numerous industries and applications throughout the world including but not limited to mining, agriculture, food and beverage, industrial, marine and municipal wastewater treatment applications.
To learn more about the intellectual property available for sale in these portfolios or to place a bid:
Contact Dean Becker at 561-573-0405 or via email at dean(AT)icapip.com
About ICAP Patent Brokerage
ICAP Patent Brokerage is the world's largest intellectual property brokerage and patent auction firm, leveraging the talents of experienced patent brokers to match buyers and sellers for the sale of patents and other intellectual property assets. With multiple transaction platforms and unparalleled industry knowledge, including experience with trademarks, brands, intellectual property licensing, and UCC sales, ICAP Patent Brokerage is the global leader in the transaction of intellectual property.